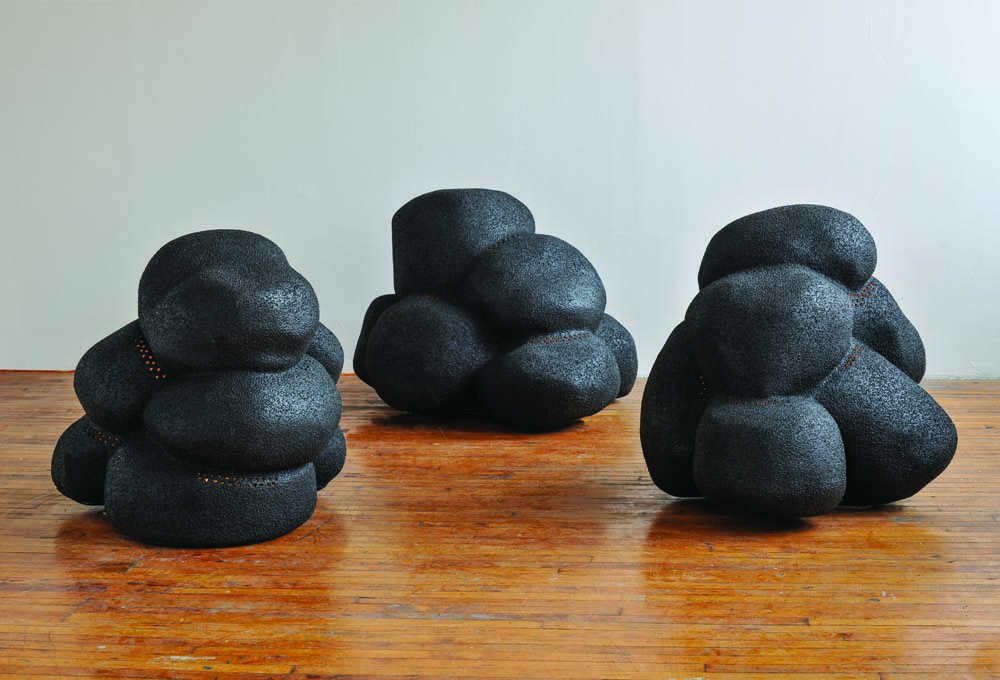 "Light Energy," an exhibit of sculptures by NYC-based artist Jill Viney, in which light is an essential component, opens at Sarah Lawrence College at the Barbara Walters Gallery in the Heimbold Visual Arts Center (915 Kimball Avenue) on August 27 and runs through September 23 with an opening reception on September 8 from 5:30 – 7 p.m. The exhibit hours are as follows: Thursday & Friday: 10 a.m. – 4 p.m.; Saturday & Sunday, 1 – 4 p.m.
The title of the exhibit, which features three sculptures fabricated in fiberglass and plexiglass, incorporates references to the materials used and the concept behind the works themselves, says Viney. "Fiberglass is a series of fibers that hold light and plexiglass allows light to either pass directly through or be reflected off its surface. Both materials allow an outer form to be built and an inner construction to be seen through that outer surface. Using light or reflective materials can give a sculpture an inner glow." Viney has been working with these materials for 30 years.
The three pieces featured in the exhibit are "Orbital"—a rose-colored umbrella form with transparent hanging appendages; "Ocean Nest"—a double-barreled luminescent form wrapped in barbed wire; and "Smokers"—two black clusters of mounds each with an inner light that glows through small holes in their surfaces.
The inspiration for Viney's work comes from the natural landscape and especially life in the sea. Scuba diving "opened a world of light, color, form, and behavior to me," she says.
A sculptor and writer, Viney is a graduate of Sarah Lawrence College and received her Master's degree from Columbia University's School of the Arts. Viney's work has been shown in New York City by Trans Hudson and Joyce Goldstein galleries, was included in "Fabricated Nature," an exhibit organized by the Boise Museum of Art. In "Form and Space" at New Jersey's Hunterdon Museum, her sculpture "Baja" was singled out by The New York Times. She has received two outdoor commissions: "Dwelling" at the St. Louis Campus of the University of Missouri and "Barrow" at the Herron School of Art in Indianapolis. She is a Yaddo fellow and member of the board.
---