It is our honor and privilege to celebrate three faculty members who retired at the end of this academic year: Kris Philipps, Eddye Pierce-Young, and Judith Serafini-Sauli. For their immeasurable contributions to the College, we are profoundly grateful.
Kris Philipps, Visual and Studio Arts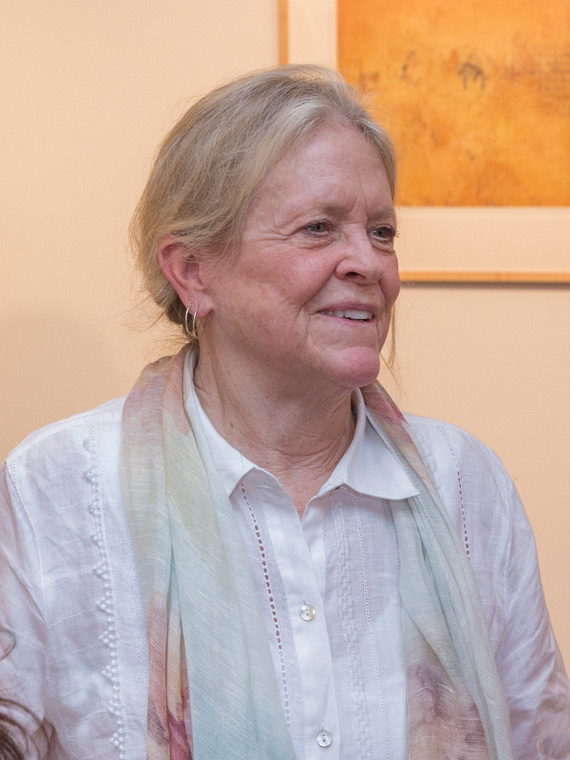 In addition to her course offerings, printmaker Kris Philipps (visual and studio arts) has spent her 35-year tenure at the College teaching the fine art of attentiveness—displaying meticulous care and concern for her students, her colleagues, the creative process, and humankind.
At the opening of Philipps' solo exhibit, held on April 26 in in the Barbara Walters Gallery in Heimbold Visual Arts Center, students, alumni, friends, and colleagues gathered to celebrate Philipps and her retirement.
For Finn Campman '89, Philipps' retirement was a family affair; he and his wife, Helen Schmidt '89, who is a printmaker, drove down from Vermont for the occasion; their daughter Maeve '20, who recently took a class with Philipps, was also in attendance. Reflecting on Philipps' teaching style, Campman said, "She applied a lot of motivation without a huge amount of pressure—which basically meant that we just wanted to be in the studio all the time."
Philipps' influence has been lasting for Campman and Schmidt, who dedicated a recent solo show to Phillips. Schmidt said of her inspiring mentor, "I really admire the rigor with which Kris teaches. From her attention to detail to the mythical way that she presents her work, everything is treated with such care."
Others who have taken class with Philipps agree. Beverly Fox, Associate Dean of Studies, recalled taking a drawing class with Philipps in 1998: "While I did not bud into a modern-day Picasso, I left that class with a changed way of observing the world…without Kris' patient guidance, that never would have happened."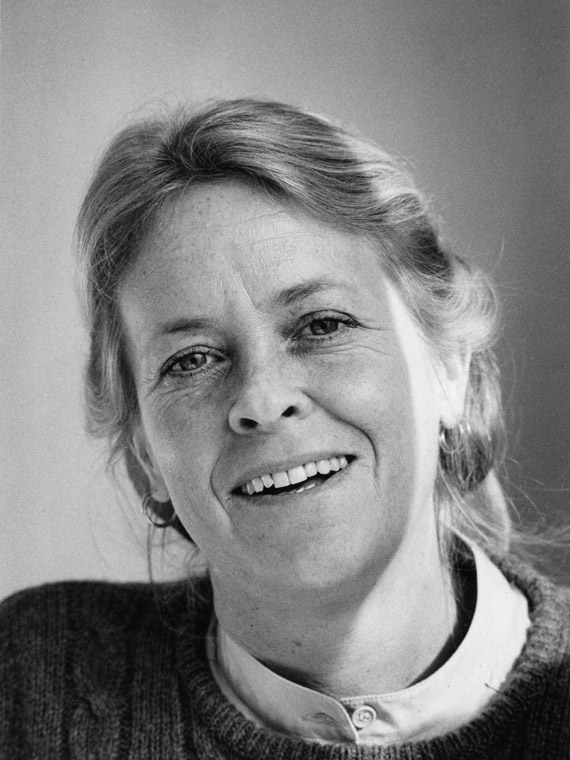 Outside the classroom, Philipps served on the faculty advisory committee to the Office of Community Partnerships. Volunteerism—and, in particular, Philipp's work with Habitat for Humanity—has been a passion of Philipps' for decades, blending her interests in learning about other cultures, giving back, teaching, and art-making. Philipps has brought students on volunteer missions, including trips to teach bookbinding to a women's co-op in Nicaragua and to restore Buddhist temples in Sri Lanka.
At the end of this year, Philipps is hosting a fundraiser, selling her now-extensive collection of student work, along with hand-printed t-shirts, and donating the proceeds to the Office of Community Partnerships. Of her community-based work, Philipps remarked, "That's where my heart is."
Upon retirement, Philipps plans on continuing her community-based work and creating art. She will also spend time with her adopted son and his family, including her two grandchildren.
When asked what she'll miss the most about Sarah Lawrence, Philipps was quick to reply: "The students. The students are so special here. It's a special kind of individual who chooses Sarah Lawrence, and it's been a joy to work with the student body."
The feeling is mutual. A number of students and former students noted that Philipps' has been a continued inspiration in their creative lives. Kyle Nicholas '16, who chose Philipps as his don, says, "She taught me the importance of pursuing what you love, regardless of what others tell you. She's one of those tried and true artists who does the work for herself, which is the best thing anyone can possibly do."
---
Eddye Pierce-Young, Music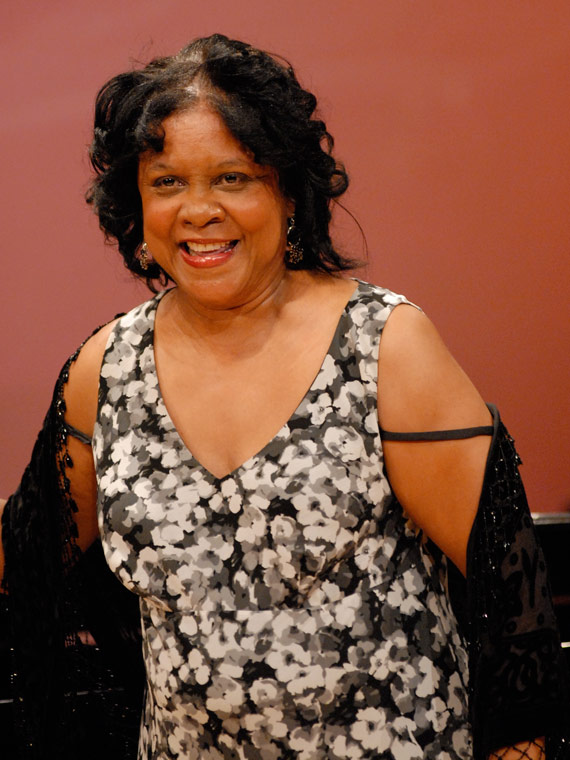 In 1989, concert artist Eddye Pierce-Young stepped out of a cab at Marshall Field, ready for a faculty position interview with Chester Biscardi, who was then the Director of the College's Music Program.
As soon as he said, "Eddye, I'm Chet. Come on in," Pierce-Young, touched by Biscardi's personable welcome, thought, Well, I've found my place.
When the soprano officially joined the music faculty, she found that the College's warm reception continued. Pierce-Young, who grew up in the fifties in Fort Worth, Texas, became the first African-American woman on the music faculty. (Thomas Young, who was hired at the same time and is no relation, was the first African-American man on the music faculty.) She recalls meeting fellow music faculty members Jean Wentworth and Catherine "Kitty" Rowe, who said, "Eddye, I want you to stay. I want you to be happy here. If there's anything you need, tell me and I'll get it for you."
"That was very encouraging and supportive," Pierce-Young says.
Ever since, Pierce-Young says she has been "extremely happy" at the College. Pierce-Young found that the personalized style of the Sarah Lawrence education really resonated with her. "It is so special, the way that the professors relate to students and the students to them," she remarks. "The students here are brilliant. This is a school I'll always be proud I was a part of." (Recently, her pride was amplified when her grandson, Julius Powell '18 graduated from the College.)
Pierce-Young's signature course was "Self-Discovery Through Singing," which developed out of her master's thesis and which she had been teaching at other institutions for 20 years prior. The course was designed to prepare first-year students to move past their fears and enter studio teaching with some knowledge of their voice and range. She says, "No one was a star, but me. Everyone was treated with respect and appreciation."
As Pierce-Young's colleagues were welcoming to her, for nearly three decades, she has created the same type of benevolent atmosphere in her classroom. "Eddye has a gift for nurturing her students' individual voices," John Yannelli (music) notes. "The great care she takes to make sure each student has their needs met has endeared her to students."
Actress and singer Anna Cristina Siguion-Reyna Villonco '06 was one such student. Inspired by her classes with Pierce-Young, Villonoco invited Pierce-Young to teach master classes and give a concert in Villonoco's native Phillippines in 2005. At the time, Villonoco, whose family sponsored the trip, said, "She pushed me and tackled my work and has held my hand through all of my struggles, and she holds me still. I wish every student of voice had the benefit of her training."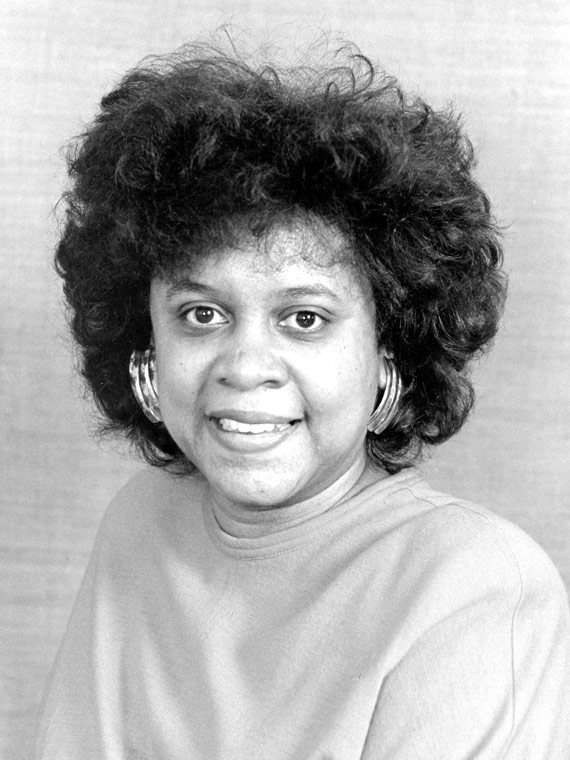 Her holistic approach to teaching made her particularly popular. Not only does she praise the student when she succeeds, Biscardi says, but Pierce-Young "is witty, yet firm when she needs to adjust a problem. She works with every aspect of a singer's being: vocal techniques, overall body, intellect, emotion, and spirit."
Outside the classroom, Pierce-Young was the vocal coordinator of the Voice Area of the Vocal Department and performed on campus for students, faculty, and the Westchester community at-large. She also served on the Diversity Committee.
Pierce-Young, an acclaimed lyric soprano, inspired her students and colleagues with her long list of accomplishments in her field, too. She has performed on national and international stages, with an impressive range of repertoire. Previously, she sang with the San Francisco Spring Opera and in the Merola Opera Program. In addition to receiving multiple awards, including grants from the Metropolitan Opera National Council, she received national acclaim for the role of Countess in the Dayton Opera production of The Marriage of Figaro. She also toured for many years with a group called Gershwin by Request, alongside Wayne Sanders and Benjamin Matthews. Sanders and Matthews are the co-founders of Opera Ebony, the longest running opera company in the US.
As a teacher and coach, she has worked with many prestigious organizations, such as the National YoungArts Foundation, which includes the Presidential Scholar in the Arts Program, and the Boys Choir of Harlem.
On the occasion of her retirement, Pierce-Young credits her parents, Edward and Vivian Pierce, with making sure she had exposure to dance and singing lessons and that she was generally well-prepared for life. "I give them all the honor," she says.
As far as retirement, Pierce-Young is looking forward to spending more time with her daughter, who resides in Georgia, and her adult grandchildren.
Her sensitive and thoughtful presence will be deeply missed at the College. Biscardi, who counts Pierce-Young as valued colleague and dear friend, remembers an evening out in the West Village, when after dinner Pierce-Young was urged to sing a song at Five Oaks, a jazz club. Her rendition of "Summertime" mesmerized everyone in the room. Biscardi says, "That's Eddye. She can do anything at the drop of a hat and do it beautifully."
---
Judith Serafini-Sauli, Esther Raushenbush Chair in the Humanities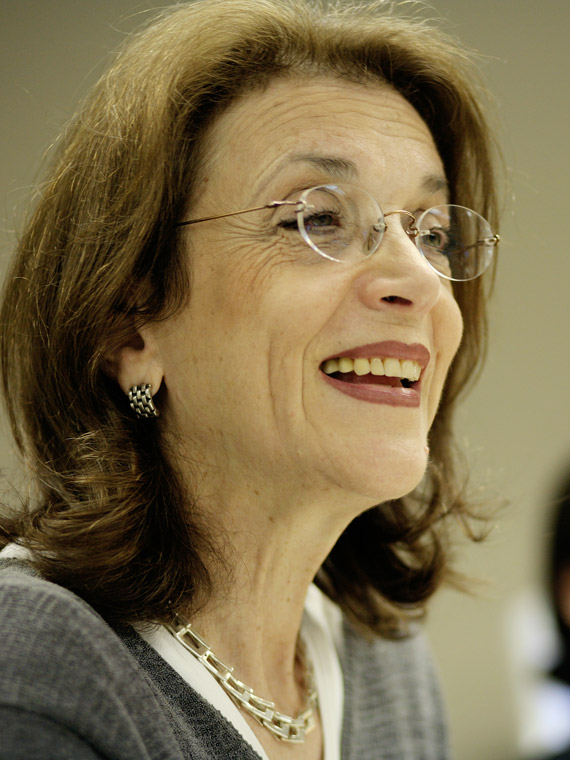 When Judith Serafini-Sauli '63 (Italian, literature) graduated from Sarah Lawrence, she had an immense appreciation of the College's pedagogy and practices, which would come to shape her life. Of her earliest experiences here, she recalls, "Sarah Lawrence was mind-blowing in terms of [intellectual] commitment, involvement, and challenges."
Nearly two decades after graduating, Serafini-Sauli returned to Sarah Lawrence as a faculty member, finding, once again, a profound sense of home: "Twenty years later, I experienced a similar kind of satisfaction—the absence of rote learning that leads to meaningful engagement with young human beings and ideas."
Now, after 37 years at the College, Serafini-Sauli, who won the College's Lipkin Award for Excellence in Teaching, leaves behind a wealth of contributions to the College. A preeminent Dante and Boccacio scholar, Serafini-Sauli is a "sheer master" in the classroom, according to long-time colleague Ann Lauinger (literature). "She is a fabulous language teacher with an exceptional literary mind—that's a hard combination to find," Lauinger notes.
Known for her innovative course offerings—such as, "Read the Book! See the Movie!," an advanced course modern Italian narratives and their cinematic interpretations—Serafini-Sauli has consistently sought out inventive ways to make connections between language, art, and literature, in the classroom and beyond. Last December, for example, Serafini-Sauli organized an exhibit of works by George Cochrane '95 at the Esther Raushenbush Library, featuring his original artwork and manuscript of Dante's Inferno, which he hand-lettered in English and Italian. Tristana Rorandelli (Italian, literature) says, "She is an exceptional academic and teacher, a remarkable intellectual capable of interlacing her deep understanding of the Italian language, literature, art, and opera in exciting ways that provoke thought and engage discussion to the benefit of both students and colleagues alike."
In addition to her interdisciplinary brilliance, Serafini-Sauli is witty, generous, and kind. Colleague Nicolaus Mills (literature) says, "She has always been open to students and their well-being."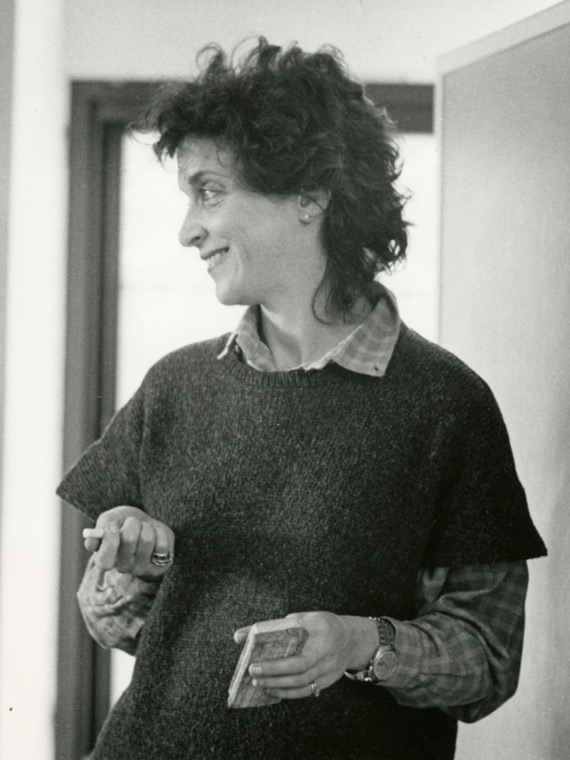 Outside of the classroom, over her many years at the College, Serafini-Sauli has been a thoughtful and engaged colleague, serving on multiple committees, as Faculty Trustee, and as a faculty representative at several "Faculty on the Road" events. "Being both an alumna and a faculty member, you have a whole different voice and perspective," she says. "And it was always gratifying to see the benefits of a Sarah Lawrence education as they developed in so many different ways after graduation."
One of her greatest achievements was helping to found and co-direct the College's study abroad program in Florence in 1987, one of the most important and imaginative foreign exchange programs in the country at that time. Pauline Watts '70, faculty emerita and former dean of the College, says, "Judy was an anchor in terms of what she was able to create and sustain. Many of my students found the Florence program to be transformative—Judy made that possible."
She also actively published in her field. Her scholarly publications include The Pleasures of Reading: Boccaccio's Decameron and Female Literacy, MLN, and Giovanni Boccaccio, Twayne World Authors series, as well as a translation of Ameto by Giovanni Boccaccio.
In retirement, Serafini-Sauli is exploring opportunities to teach English as a Second Language (ESL), perhaps teach literature in a prison program, tutor students with dyslexia, do some writing, some translating, and lots of reading. This year she has audited "Shakespeare and the Semiotics of Performance," which is taught by Joseph Lauinger (literature), an experience she calls "sheer heaven," and she hopes to find other courses to audit.
On leave this semester, Serafini-Sauli already misses teaching. "I miss the kind of absolute focus teaching requires—it's exhilarating and mind-cleansing."
Serafini-Sauli's absence will be deeply felt. Mills compares her to Ilja Wachs, Chair in Outstanding Teaching and Donning, in that Serafini-Sauli "is a model of the kind of care and civility people need to invest in one another."
Rorandelli remarks, "She has been the soul and spirit of the Italian program; lauded and respected by students and colleagues alike. Personally, I am deeply grateful for her invaluable guidance and trust in me since I began teaching at SLC. I will miss our daily conversations, her vision for the Italian program and its integral place within the College."
---
About Sarah Lawrence College
Founded in 1926, Sarah Lawrence is a prestigious, coeducational liberal arts college that consistently ranks among the leading liberal arts colleges in the country. Sarah Lawrence is known for its pioneering approach to education, rich history of impassioned intellectual and civic engagement, and vibrant, successful alumni. In close proximity to the unparalleled offerings of New York City, the historic campus is home to an intellectually curious and diverse community.