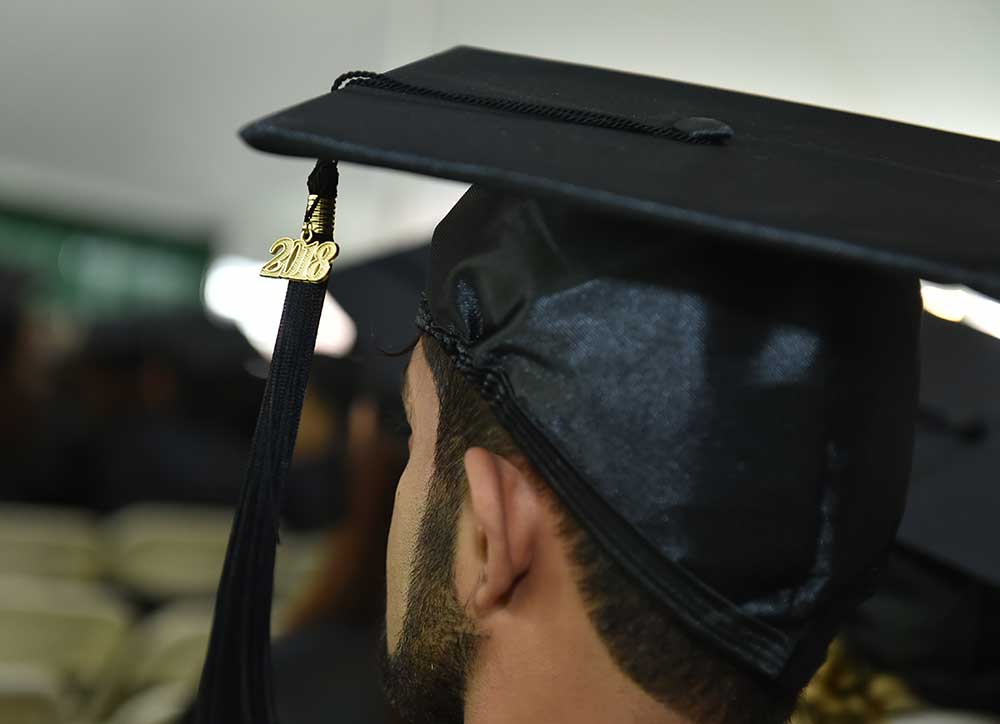 Degrees conferred on 315 undergraduates and 129 Master's candidates
Sarah Lawrence College graduates were reminded that success is never achieved without the support of others, and were encouraged to pay forward the support they've received in stirring addresses at the College's undergraduate and graduate commencement ceremonies.
The messages were imparted by this year's keynote speakers: Ford Foundation President Darren Walker, who addressed 315 undergraduates on May 18, and Kyes Stevens MA '99, MFA '00, founder and director of the Alabama Prison Arts + Education Project, who addressed the College's 129 Master's candidates a day earlier.
Walker, one of the top names in the philanthropic world, focused on his humble beginnings in a rural southern town where his mother had the foresight to enroll him in the first class of Head Start in 1965. It was a decision that Walker said shaped his life.
"There's a story that we Americans like to tell ourselves: the story of the self-made man," said Walker. "It's the story of the entrepreneur who founds a start-up in his garage—or the minimum-wage worker who pulls himself up by his bootstraps. But graduates: that story is pure fiction."
Walker added that we all depend on others to help us through this world and that graduates need to pay it forward.
"I wouldn't be here today if not for my mother, who moved us out of the small, segregated, Louisiana town where I was born," said Walker. "Or without the young woman with a clipboard who knocked on our door one day, asking to sign me up for a brand-new program called Head Start."
He added, "I share this because it's often easy to forget that our success is not only our own."
Walker reminded students of the words of one of Sarah Lawrence's most famous alumnae, poet and writer Alice Walker, who said, "'activism is my rent for living on the planet.' Think about that: activism is our rent for living on the planet. So, Class of 2018, this graduation day, I offer you a call to moral action."
During Thursday's graduate commencement ceremony, Kyes Stevens talked about her work in bringing education and equity to those in prison. Her message sounded a familiar theme about Sarah Lawrence's influence on her choice to make social justice her raison d'être.
"This college's influence on how I've built this life is significant," she said. "Curiosity, action, and cultivating a habit of hard work. The women's history program taught me that I could do more than I ever imagined academically. And the poetry program, well, that was like putting Miracle Grow on my already wide-open eyes."
Stevens also rejected the idea that success could be achieved in a vacuum without the support of others. "I am full of gratitude for all the people along the way who invested in me. A simple reminder that we do not get anywhere all on our own. That whole boot-strap logic is broken."
She urged graduates to use the gifts they receive from family, mentors, and friends to develop a larger awareness of what is needed in the world for future generations.
President Cristle Collins Judd, presiding over her first commencement proceedings since joining the College in August, echoed the sentiments of community and support, and left graduates with a charge: "You are surrounded by people whose lives have shaped yours and with whom you have shared a very special experience, place, and philosophy of education. Some of these people will be your friends for the rest of your life; others will turn out to be future colleagues or collaborators. These include not only your classmates, but also the faculty, staff, and even the president of this college. What all of us share with you is the special privilege associated with a Sarah Lawrence education. So, to the Class of 2018: my hope, my challenge, and my charge to you is to go out and 'Sarah Lawrence' the world."
To see videos, photos, and news from both commencement ceremonies, visit sarahlawrence.edu/commencement.
About Darren Walker, President, Ford Foundation
Darren Walker is president of the Ford Foundation, an international social justice philanthropy with a $13 billion endowment and $600 million in annual grant making. For two decades, he has been a leader in the nonprofit and philanthropic sectors. Darren led the philanthropy committee that helped bring a resolution to the city of Detroit's historic bankruptcy, and chairs the US Alliance on Impact Investing. He co-chairs New York City's Commission on City Art, Monuments, and Markers, and serves on the Commission on the Future of Riker's Island Correctional Institution and the UN International Labor Organization Commission on the Future of Work. He also serves on the boards of Carnegie Hall, the High Line and the Committee to Protect Journalists, and is a member of the Council on Foreign Relations and the American Academy of Arts and Sciences.
About Kyes Stevens, Founder and Director of the Alabama Prison Arts + Education Project
Kyes Stevens has worked with colleagues across the country to build the National Alliance for Higher Education in Prison and met several times with members of the Obama administration at the White House to discuss the role of higher education in criminal justice reform. Stevens earned her MA in Women's History and MFA in poetry from Sarah Lawrence College and was awarded a fellowship from the National Endowment for the Arts and the Department of Justice to teach poetry at the Talladega Federal Prison in 2001. She has completed eight residencies at the Lillian E. Smith Center for Creative Arts in Clayton, GA and was a co-recipient of the first Lillian E. Smith Writer in Service award. She received the Auburn University Young Alumni Achievement Award in 2012 and an Auburn University Women of Distinction Award in 2010. She was the 2014 Alabama State Council on the Arts Literary Arts Fellowship recipient and, in 2016, was recognized as an AL.com Woman Who Shapes the State. She was also selected as a 2016 Southerner of the Year by Southern Living.
---
About Sarah Lawrence College
Founded in 1926, Sarah Lawrence is a prestigious, coeducational liberal arts college that consistently ranks among the leading liberal arts colleges in the country. Sarah Lawrence is known for its pioneering approach to education, rich history of impassioned intellectual and civic engagement, and vibrant, successful alumni. In close proximity to the unparalleled offerings of New York City, the historic campus is home to an intellectually curious and diverse community.