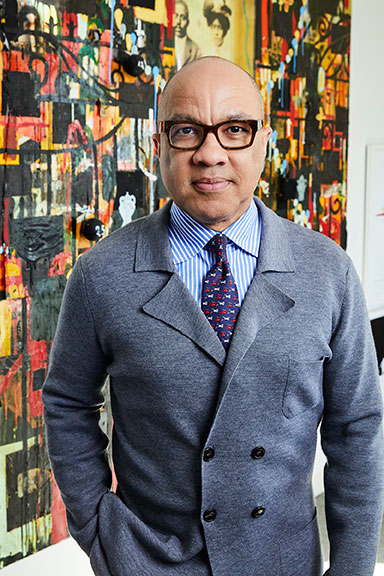 Darren Walker, President of Ford Foundation, the renowned international social justice philanthropy organization, will give the address at Sarah Lawrence College's 90th Undergraduate Commencement on Friday, May 18.
The ceremonies will be held at 10 a.m. on the Westlands South Lawn. Commencement will be broadcast live at https://livestream.com/SarahLawrence/commencement2018.
Widely known for his role in helping to bring a resolution to the City of Detroit's historic bankruptcy and for revitalizing Harlem in the 1990s, Walker oversees Ford Foundation's more than $13 billion endowment and $600 million in annual grant making.
As a member of the first class to attend Head Start in 1965, Walker speaks frequently on how the program helped to spark his imagination and give him a view of the larger world. Raised in a rural Texas town by his mother, he attributed the love and acceptance of his family in helping him to always feel supported and comfortable with his identity as a gay, black man.
"We could not have hoped for a more dynamic and relevant speaker for our 90th Commencement ceremonies," said Sarah Lawrence president Cristle Collins Judd. "Not only has Darren Walker been a transformative leader in the nonprofit world for more than two decades, but his personal story of achievement resonates deeply with our mission here at Sarah Lawrence."
Today, Walker is a leader in the nonprofit and philanthropic sectors. He chairs the US Alliance on Impact Investing and co-chairs New York City's Commission on City Art, Monuments, and Markers, and serves on the Commission on the Future of Riker's Island Correctional Institution and the UN International Labor Organization Commission on the Future of Work. He also serves on the boards of Carnegie Hall, the High Line, and the Committee to Protect Journalists, and is a member of the Council on Foreign Relations and the American Academy of Arts and Sciences.
Before joining Ford, Walker was vice president at the Rockefeller Foundation, overseeing global and domestic programs including the Rebuild New Orleans initiative after Hurricane Katrina. In the 1990s, as COO of the Abyssinian Development Corporation—Harlem's largest community development organization—he oversaw a comprehensive revitalization strategy, including building over 1,000 units of affordable housing and the first major commercial development in Harlem since the 1960s. Earlier, he had a decade-long career in international law and finance at Cleary Gottlieb Steen & Hamilton and UBS.
Educated exclusively in public schools, he graduated from the University of Texas at Austin, which in 2009 recognized him with its Distinguished Alumnus Award—its highest alumni honor. He has been included on numerous annual media lists, including TIME's annual list of the 100 Most Influential People in the World, Rolling Stone's 25 People Shaping the World, Fast Company's 50 Most Innovative People, and OUT Magazine's Power 100. He is the recipient of 13 honorary degrees and university awards, including the DuBois Medal from Harvard University.
---