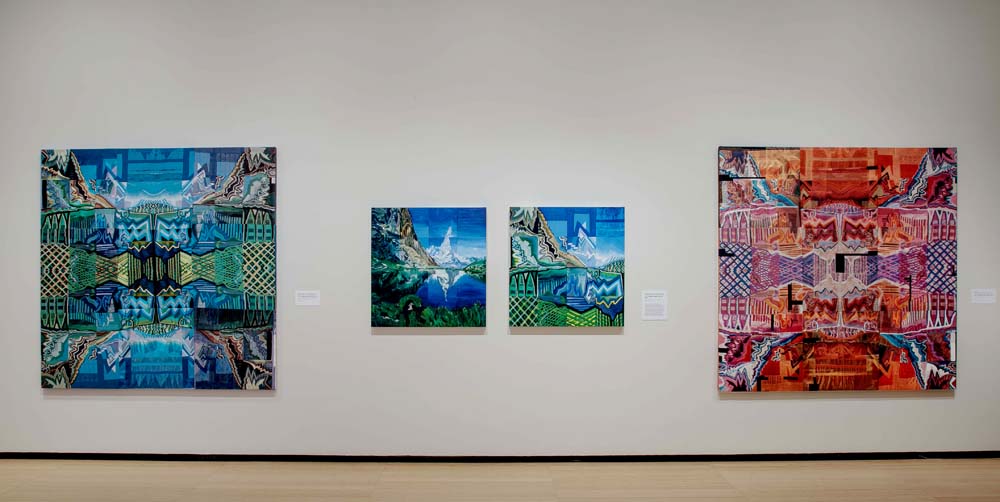 Barbara Walters Gallery at Sarah Lawrence College is pleased to present PostWest 2a: Ornament and Translation, a solo exhibition of works by visual and studio arts faculty member Kanishka Raja. The exhibition will be on view from October 31 – December 10 at the gallery's location in the Heimbold Visual Arts Center. An opening reception will be held Tuesday, October 31, from 5 - 6:30 p.m.
Selections from an ongoing, multi-part, interconnected series titled PostWest, the painted, woven, embroidered, and printed works in PostWest 2a: Ornament and Translation cross boundaries of art, technology, reproduction, and craft. Raja subverts these distinctions by making translation and collaboration his operational models. By applying successive processes of reproduction, repetition, and inversion, the series translates images across media and methods.
PostWest 2a: Ornament and Translation includes multiple, cumulative translations of an original image. The painted diptych I and I (Missed Twice); SW1-XY is based on a found, "postcard" photograph of Switzerland. The same picturesque mountain scene is represented in various degrees of abstraction in the two oil paintings. Raja uses a grid to paint both works simultaneously, so that, square-by-square, the production of both paintings in the diptych are equivalent in terms of time, tools, and materials. The gridded, abstracted painting is digitally reproduced four times and then divided into panels, which are woven and embroidered by collaborators who interpret the image through individual processes and materials. This method produces I and I (Translate); SW1, an amalgamation of imperfectly symmetrical repetitions that reveal how the "flawless" digital replication was broken into parts, translated across media, and then recombined. In the subsequent work from the series, I and I (Others Hide); SW1, the image undergoes further reinterpretation: the reverse sides of the textile fragments are scanned at high resolutions, stitched digitally, and reprinted on cotton, creating the original image with inversed colors. In the artist's own words, "Paintings based on found images form the generative anchor for works that, via processes of repetition, doubling, and inversion, undergo interpretive transformations in the hands of multiple craftsmen and collaborators and are then returned to the studio to be sutured together into notions of provisional wholeness."
In the process from representation to abstraction to pattern, the work accumulates slippages and mistranslations, with each translating "error" made evident in the work on view in Postwest 2a: Ornament and Translation. Raja's works are visual embodiments of the process of translation, speaking to its traditional definition as an idea "carried across" borders or media. Each set of images embodies how information is gathered and lost through the processes of transformation and collaboration. The gaps that occur in the transmission of information, and the alterations engendered through acts of translation, are conceptually foregrounded by PostWest.
Borders are given multiple subtextual meaning in Raja's works. As the PostWest series continues to expand, the artist will apply similar multi-media translational processes to a postcard photograph of Kashmir. Switzerland and Kashmir sit on the opposite ends of the contemporary geopolitical spectrum, yet simultaneously share complex, intertwined cultural histories. Raja chooses banal 'tourist' images as the starting point of potentially endless visual regeneration in order to produce meaning from the processes applied to the images. The artist disrupts the surfaces of the paintings of the original postcard images after their completion, taking actions such as slashes, seams, and gunshots. Raja interrupts the visual plane in order to undermine the idealized representations manifested in the original images.
As suggested by its title, PostWest seeks to expand the parameters of contemporary painting to include non-Western artistic conventions. Raja's work deconstructs the hierarchal division between "fine art" and "craft," incorporating processes and materials from both into single works. The artist's interest in embroidery and weaving traditions is informed historically and theoretically by the relationship between ornament and the rise of Modernism, and personally by his family's work as textile designers. For Raja, "Embedding the conventions and expertise of textile-based image-making practices into a dialog with painting thus becomes an attempt to open up pathways by which to efface traditional figure/ground (or colonizer/colonized) relationships within expanded and decolonized narratives of painting." Raja's use of translational and interdisciplinary processes challenge the construction of othering binaries such as art and craft, neutral and contested, and technological and handmade.
Kanishka Raja's work has been included in solo and group exhibitions at the Asia Society Museum, NY, the ICA Boston, Dorsky Museum of Art, SUNY, New Paltz, ICA Philadelphia and the Rose Art Museum, among others. Selected solo gallery exhibitions include Greenberg van Doren, Jack Tilton Gallery and Envoy, in New York and Galerie Mirchandani + Steinrücke, Mumbai. In 2016, Raja completed work on a major Percent for Art commission from the Department of Cultural Affairs, New York City for a permanent public artwork.
Raja is the recipient of a 2011 Painters and Sculptors Grant from the Joan Mitchell Foundation and winner of the 2004 ICA Artists' Prize awarded by the Institute of Contemporary Art, Boston. He has been awarded a Lower Manhattan Cultural Council (LMCC) Workspace Residency, been a Fellow at the Civitella Ranieri Center in Umbertide, Italy and a recipient of an NEA funded residency at the International Studio & Curatorial Program (ISCP), New York.
Raja received his BA from Hampshire College, an MFA from the Meadows School of the Arts, Southern Methodist University and attended the Skowhegan School of Painting and Sculpture. The artist was born in Calcutta and lives and works in New York and Kolkata.
---
About Sarah Lawrence College
Founded in 1926, Sarah Lawrence is a prestigious, coeducational liberal arts college that consistently ranks among the leading liberal arts colleges in the country. Sarah Lawrence is known for its pioneering approach to education, rich history of impassioned intellectual and civic engagement, and vibrant, successful alumni. In close proximity to the unparalleled offerings of New York City, the historic campus is home to an intellectually curious and diverse community.