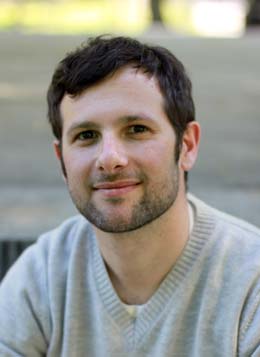 Psychology faculty member Adam Brown has been awarded a second Fulbright fellowship to continue work on assessing the impact of traumatic stress on migrants in Switzerland, many of whom are refugees, and developing preliminary interventions for treatment. He will share the results of the first phase of his work with other professionals at an international symposium on refugees in Bern in November. The title of his talk is: "Refugee Mental Health in Emergency Medicine."
Brown will return to Bern, Switzerland during the summer of 2018 to continue his research, working with other mental health professionals. In addition to assessments of post-traumatic stress disorder in refugee populations compared to the general Swiss population, he has also created preliminary interventions for emergency room doctors that they can use to help mitigate mental health problems among refugees and asylum seekers.
"We are very proud of the work Dr. Brown has been doing to study an issue of growing concern in the world,'' said Kanwal Singh, Dean of the College. "His special blend of expertise and compassion is essential to furthering our understanding as to the best ways to help alleviate suffering for people fleeing their homelands in search of safety.''
Brown, who specializes in the effects of stress and trauma, is the director of the Sarah Lawrence College's Cognition and Emotion Laboratory. He is a clinical psychologist whose work focuses on the study of PTSD and global mental health.
Over the past ten years, Brown has been working with individuals exposed to traumatic stress in many different contexts, including combat, police, and disaster relief workers. He is now partnering with international organizations to better assess and develop treatments for PTSD and other stress-related mental health issues globally including work he recently published on the impact of trauma on human rights advocates.
Brown holds a Bachelor of Arts degree from the University of Oregon and a Master's degree and PhD from the New School for Social Research. He completed his Postdoctoral Fellowship at Weill Medical College of Cornell University and has received grants from the National Institutes of Health, US Department of Defense, Fulbright, and private foundations.
---
About Sarah Lawrence College
Founded in 1926, Sarah Lawrence is a prestigious, coeducational liberal arts college that consistently ranks among the leading liberal arts colleges in the country. Sarah Lawrence is known for its pioneering approach to education, rich history of impassioned intellectual and civic engagement, and vibrant, successful alumni. In close proximity to the unparalleled offerings of New York City, the historic campus is home to an intellectually curious and diverse community.