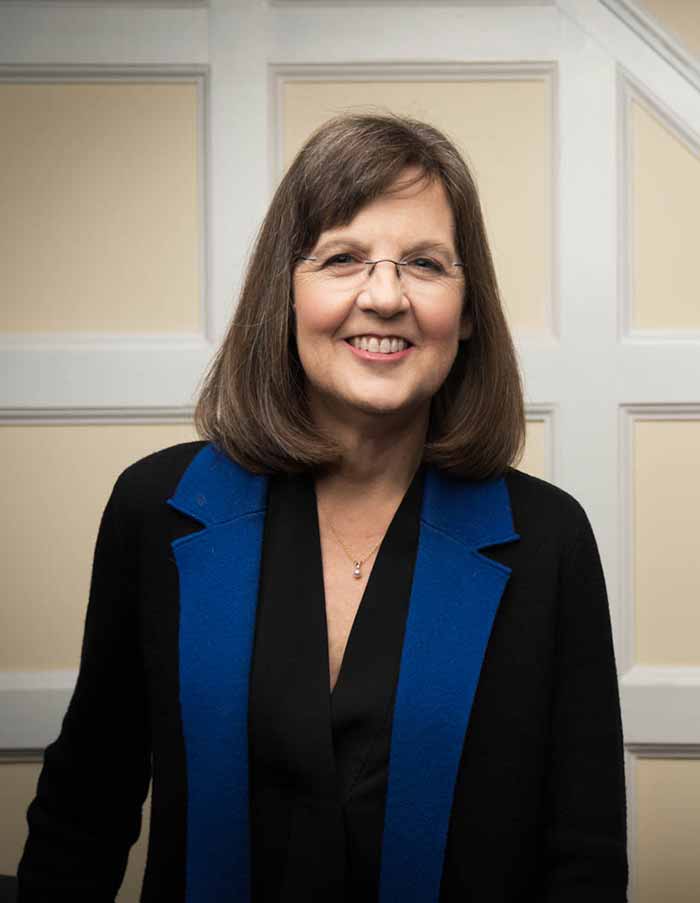 Inaugural Theme "Democracy and Education" Highlights Both Opportunities and Urgent Questions to Be Explored in Yearlong Series
On Friday, October 6, Sarah Lawrence College, one of the nation's most innovative liberal arts colleges, will install Cristle Collins Judd, PhD, as its 11th president. Dr. Judd joins Sarah Lawrence from The Andrew W. Mellon Foundation, where she guided the foundation's program for Higher Education and Scholarship in the Humanities. She has worked with college and university presidents and provosts from around the country to address the most pressing issues facing higher education, including diversity and inclusiveness, the value of the liberal arts, the role of the arts and humanities in civil society, and the cost of higher education.
Reflecting on her appointment to the presidency of Sarah Lawrence, Dr. Judd commented:
"I am deeply honored to serve as President of a community that is so innovative, intellectually rigorous, self-directed, creative, and bold. From its founding in 1926, Sarah Lawrence College has been an imaginative and influential change-maker in higher education—a place to take a principled stand when important issues are at stake and a community willing to confront difficult challenges. In this inaugural year, we are building on that legacy. As a college, as a community, we will address pressing questions of national relevance as we ask: Are we prepared to change the odds for students through the education we provide? To change the odds in higher education for those we serve and how we serve them? Sarah Lawrence doesn't stand on ceremony, but we do, and we must, stand for significance."
In a moment fitting President Judd's background as a scholar and professor of music, the inaugural ceremony will include the world premiere of a new musical work, "Changing the Odds," composed by Anna Weesner, and performed by the Cosmopolitan Brass Quintet.
Democracy and Education: Inaugural Year Theme and Series
The inauguration marks the launch of a yearlong series of events exploring the theme "Democracy and Education." John Dewey's landmark book from 1916 of the same name serves as the catalyst to engage on critical issues facing the US and society as a whole, including: What are the essential elements of a "democracy"? Who gets to be a "citizen" and why? How do we learn to speak to one another across deep ideological divides? How can we best balance the ideal of free speech in the face of hate speech? And what role should education—and higher education in particular—play? These issues were foundational for the College when it was established in 1926 and remain core to its educational mission.
This series of inaugural events is as an invitation to the Sarah Lawrence community and to those in higher education and beyond to join in this conversation. The series will officially commence with an inauguration-morning symposium featuring a distinguished panel, including:
Martha Minow, Carter Professor of General Jurisprudence, Harvard University Distinguished Service Professor, Harvard Law School, whose work focuses on civil procedure and the intersection of law and education.
Salamishah Tillet, University of Pennsylvania Associate Professor of English and Africana Studies, who has explored issues of citizenship and racial democracy.
Daniel Weiss, The Metropolitan Museum of Art President and CEO, who has held several leadership positions in higher education at Johns Hopkins, Lafayette College, and Haverford College.
Moderator: Gregg Horowitz (Sarah Lawrence College alumnus, '80), Professor of Philosophy at Pratt Institute. He has taught at Vanderbilt University, the University of Chicago, and Sarah Lawrence College, and is a past winner of the Berlin Prize at the American Academy in Berlin.
Prior to her work at The Andrew W. Mellon Foundation, Dr. Judd served as Dean for Academic Affairs and Professor of Music at Bowdoin College, where, working with the faculty, she fostered a culture of spirited intellectual inquiry among students, and an enhanced support for student fellowships and research. Together with colleagues, she created nationally recognized programs for faculty development, championed efforts for diversity and inclusion, and supported new policies addressing work-life balance and workplace equity.
Earlier in her career, she was an award-winning Professor of Music at the University of Pennsylvania. President Judd earned degrees in music performance and musicology from the Shepherd School of Music at Rice University and in music theory from King's College, University of London. Her research is widely published, and she has served on the boards of the Society for Music Theory and the American Musicological Society.
She succeeds Karen R. Lawrence, who served as President for 10 years. For more information on the inaugural theme, "Democracy and Education," and its central events, please visit https://www.sarahlawrence.edu/inauguration.
---
About Sarah Lawrence College
Founded in 1926, Sarah Lawrence is a prestigious, coeducational liberal arts college that consistently ranks among the leading liberal arts colleges in the country. Sarah Lawrence is known for its pioneering approach to education, rich history of impassioned intellectual and civic engagement, and vibrant, successful alumni. In close proximity to the unparalleled offerings of New York City, the historic campus is home to an intellectually curious and diverse community.