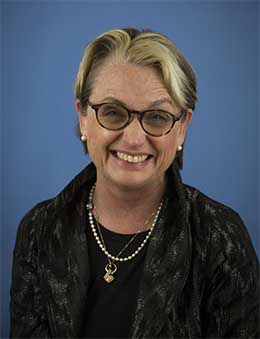 Art history faculty member Jerrilynn Dodds, Harlequin Adair Dammann Chair in Islamic Studies, has been awarded the Slade Professorship of Fine Arts at the University of Oxford for the 2020-2021 academic year.
One of the most prestigious academic appointments in art history, the Slade Professorship was founded in 1869 by a bequest from art collector and philanthropist Felix Slade. John Ruskin, England's leading art critic from the Victorian era, was the first appointment. Art historians who have held the position include legends of Art History including Sir Kenneth Clark, Sir Anthony Blunt, J.W. Pope Hennessy, Meyer Schapiro, Jonathan Brown, and Kirk Varnedoe.
During the tenure of the appointment, Dodds will give six to eight lectures on topics within "the history, theory and practice of the Fine Arts or some sections of them," open to all members of the university, will teach the Department for the History of Art, and possibly work on a project with Oxford's Ashmolean Museum. The topic of Dodds' lectures will center on Christianity, Islam, and the formation of identities through the arts.
Dodds' work has centered on issues of transculturation in the arts—in particular, among Christians, Jews, and Muslims—and how groups form identities through art and architecture. She holds special interests in the arts of Spain and the history of architecture. Dodds is author of Architecture and Ideology in Early Medieval Spain and NY Masjid: The Mosques of New York and co-author of Arts of Intimacy: Christians, Jews and Muslims in the Making of Castilian Culture. She has also curated exhibitions at the Metropolitan Museum of Art, The Jewish Museum, among other locations, and is a lecturer at the Metropolitan Museum. Dodds holds a BA from Barnard College and earned her MA and PhD from Harvard University. She was Dean of the College at Sarah Lawrence from 2009-2015. In 2016, she was awarded a fellowship from the John Simon Guggenheim Foundation.
---
About Sarah Lawrence College
Founded in 1926, Sarah Lawrence is a prestigious, coeducational liberal arts college that consistently ranks among the leading liberal arts colleges in the country. Sarah Lawrence is known for its pioneering approach to education, rich history of impassioned intellectual and civic engagement, and vibrant, successful alumni. In close proximity to the unparalleled offerings of New York City, the historic campus is home to an intellectually curious and diverse community.