Justice, Humanity, Equality, and Respect are Central Themes
Sarah Lawrence College conferred over 400 degrees in the commencement exercises of the historic college in southern Westchester County, just north of New York City. One hundred fifty master's degrees were bestowed on Thursday, May 18, and 355 Bachelor of Arts degrees on Friday, May 19.
This morning, world-acclaimed writer, director, producer of film, TV programs, and now a Broadway production, to list just some of his credentials, J.J. Abrams addressed the class of 2017 at his alma mater, Sarah Lawrence College.
Abrams connected well to his audience, whom he had met with the evening before to take questions and hear concerns as they leave a campus that has been their home for the last four intensive years of their lives. His personal, self-effacing address hinted at the sense of intimacy students and alumni feel about the small liberal arts college they share. His messages touched on the importance of gratitude, respect, humanity, and belief in the graduates' own accomplishments.
On gratitude, he said: "It's not just important to feel gratitude, it's critical to express it." And he suggested to his young audience that they employ the "antiquated" practice of writing thank you notes. "…you will be amazed how meaningful that gesture is. To the person who interviews you or gives you a tour of grad school or your new office…it's not just manners, it's humanity."
Abrams spoke of his own family, particularly his wife Katie McGrath, to impress upon the students the importance of finding and respecting one's chosen spouse: "…choose someone you're attracted to. Someone you come to love. And someone you hold in the highest regard."
Underscoring his frequently expressed concern for leveling the playing field, and citing statistics—only 11.2 percent of film directors are men of color, 1.3 percent women of color—Abrams spoke of the "disparity between what the world looks like and those who are generally telling the stories in Hollywood," saying it is both "preposterous and embarrassing."
"Regardless of your politics…taking care of each other, doing for others, helping to level the aforementioned playing field, fighting for what you know is right, not just for yourself but for those who might not have as strong a voice or station or college degree in their pockets—is not about being a Democrat or Republican, it's about being human. Our institutions matter—Democracy matters—there is no better option out there and it needs to be defended. Nothing makes me happier than stating the obvious, so I say this to a population full of activists: it matters that you vote. National elections, but also in your local and statewide elections. Find one thing you're willing to fight for—that you're willing to commit energy and time and money towards protecting. You've heard the rumors about how entitled and whiny and apathetic your generation is…you owe it to yourselves, your community, to do your part. You have earned your diploma—nicely done. Now it is time to earn your place as a citizen in this country…"
Abrams spoke of the thing he and the students had most in common—Sarah Lawrence College, which he described as "not normal," saying: "it has always, proudly, been a progressive and creative environment. That means that a high proportion of the student body is artistic. And artists are, nearly always, the ones for whom being a kid wasn't so easy…but artists are usually artists for a reason. Observers on the outside because the inside didn't always present a door. To be surrounded by—to live for years beside—people inspired to create, to voice their opinion informed by their observations and struggle—is a gift that will last for the rest of your lives.
"Of course, it was more than just a powerful sense of community that Sarah Lawrence instilled in me. …What getting a Sarah Lawrence degree means is that you've attended an exceptional college that values the creative individual, personal discipline, and unique thinking. I can't think of a more powerful combination in this new economy. In business, in technology, government, entertainment, everywhere. And you'll actively use what you learned here every day."
Making reference to the fact that Sarah Lawrence was once an all-women's college and has a higher proportion of women to men, he said: "I've been asked many times why I've so often chosen to feature female characters at the center of the stories I tell. I'd argue that's in no small part because of where I went to college. The extraordinary value of being surrounded by so many female voices cannot be overstated. Having a sister as an only sibling and having had an extraordinary mother prepared me for this place….what my mother taught me is that life is a series of opportunities…serendipities…chances to be grateful, to do the right thing…to find your inspiration."
In conclusion he said: "While today is important, it isn't your commencement. It isn't your beginning. It's simply another beginning. Like it was going to middle school. Or getting your first job, or learning how to walk….It might not feel like it, but that anxiety you're feeling right now is the same anxiety you've felt before, over and over again…But while your fear is real and justified, so is the fact that you're standing on a foundation of your own accomplishments…Life, I have learned, like any creative endeavor, is a leap of faith. The thrilling thing…is knowing that it just might work…"
---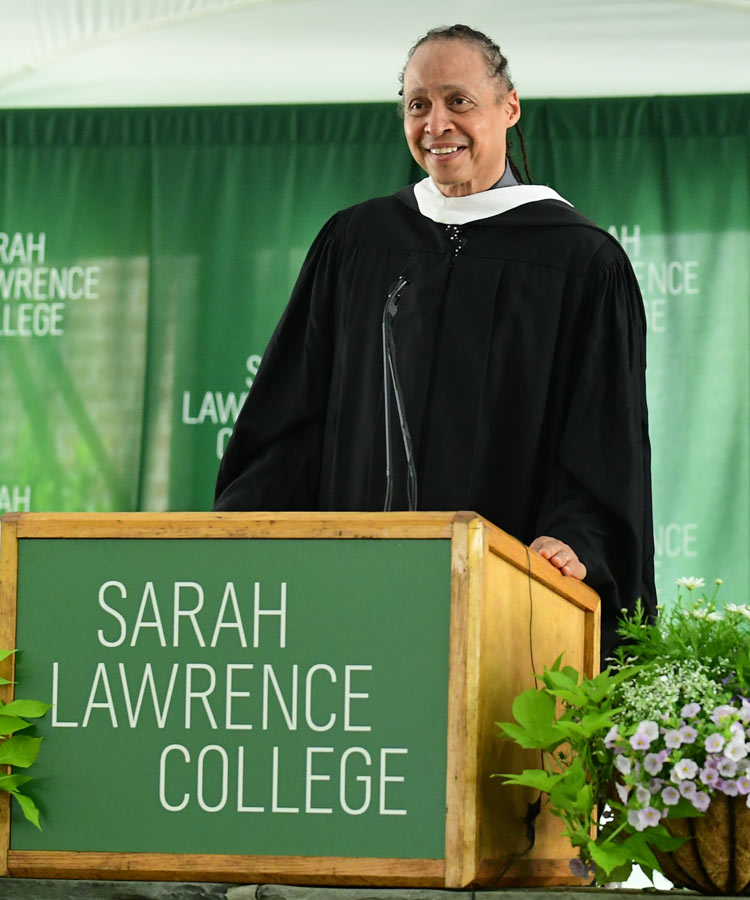 Justice and equality for people of all colors was the message at the heart of Jamal Joseph's address to graduates of Sarah Lawrence College's nine master's degree programs at its 2017 Graduate Commencement on May 18.
Talking about the influences that shaped his early life, Joseph said, "I was an orphan kid being solely raised by his grandmother: a man-child who played baseball, and hung out on the streets with older boys in his quest for manhood. I was praised by teachers, and at the same time called nigger by fellow students whose parents were workers and the working poor from the same Bronx neighborhood that we lived in—the black kids and the white kids. I was hugged by seniors in my neighborhood for helping them with their grocery bags, and smacked around by cops for being on the wrong block."
The injustice of this led to his aspirations to emulate his heroes, The Black Panthers, who as a 15-year-old during the 1970s seemed to him larger than life in their "leather coats and dashikis."
But the stories he had heard of the Black Panthers terrified him, he said, especially, rumors that he had to kill a white man, or a white cop, if he wanted to join. But he showed up at one of their meetings to join, nonetheless, and learned that the Panthers were not killers but revolutionaries looking for social justice for all races.
"The person behind the desk was explaining the Panther 10-Point Program. Go online and read it. It talks about housing, shelter, control of the police. It talks about medicine. It talks about community control. …Nothing in there about killing anybody; about bringing any cop's badge and gun," he said.
And so he became the youngest Black Panther, he said, and was arrested as a militant. Joseph served five years of a 12-year sentence in prison where he wrote five plays, two volumes of poetry, founded a theater company, and earned two college degrees.
"You can serve this time or you can let this time serve you,'' Joseph said he was told upon entering Leavenworth prison. He credited his survival and his growth there to some of the "toughest characters," including the "most gangsta person in Leavenworth, a 70-year-old white woman who was about five foot three, a professor from KU, named Dr. Johnson," who he described as so demanding that she would find grammatical errors in the bible.
"There's no stronger weapon than an armed mind, and love," he said she had told them.
Love, or more accurately respect, is what he learned in prison could bring together opposing sides. The drama group that he started in prison showed him that where there is "humankind" there is common ground, he said.
"And then one of the real tough guys who hung out with bikers and Arian Brotherhood came, and his name was Rebel," Joseph told the audience. "He went back to his section of the yard and was surrounded by his guys and it was like, 'Reb, you were with the blacks and the Latinos?' And he said, 'Yep.' …What are they doing, Reb? He said, 'A play.' They said, 'Reb, well, what did you do about it?' He said, 'Well, they gave me a part.'"
Joseph urged the graduates to be patient, saying that "movements take time." He compared the current struggles to the Suffrage movement, which started in 1848 with women only getting the vote in 1920.
"Know that when you plant the seeds of something, that sometimes you'll see it blossom and sometimes you're planting seeds that you'll see much later on, or maybe not in your lifetime, but you did that regardless."
Joseph ended his speech with a story about a young boy who goes to the state fair and is fascinated by the balloon man. As he watches balloons of every color escape from the bunch and float into the stratosphere, he says, "Mr. Balloon Man, did you see that? Did you see that? The green balloon went just as high as the red balloon," said Joseph. "And the old man looked at that little boy and he smiled and he said, 'Son, always remember this. It's not the color on the outside but the stuff on the inside that will make you rise.' Rise today at graduation. Rise."
Both speakers' addresses were livestreamed and can be replayed by visiting https://livestream.com/SarahLawrence. For photos, videos, transcripts, and more, visit to read full transcripts of all speeches at Sarah Lawrence College's Commencement visit sarahlawrence.edu/commencement.
About J.J. Abrams
J.J. Abrams' career as an innovative writer, director, and producer began in his final year at Sarah Lawrence when he collaborated with a friend to write a feature film treatment that was purchased by Disney Studios.
In addition to writing, producing, and directing Star Wars: The Force Awakens, Abrams' long list of credits includes producing and directing Star Trek and its sequel, Star Trek Into Darkness, and writing and directing the films Super 8 and Mission: Impossible III. He produces the Cloverfield, Star Trek, and Mission: Impossible series of films, and created or co-created and produced the TV series Felicity, Alias, Fringe, and Lost. He has written or co-written such films as Regarding Henry, Forever Young, Armageddon, and Joy Ride and has composed theme songs and music for many of his productions. Currently, Abrams produces the hit HBO series Westworld and the Olivier-award winning Broadway comedy The Play That Goes Wrong.
Among his numerous awards are two Primetime Emmys, a Producers Guild of America Lifetime Achievement Award in Television, and awards from the Directors Guild of America, the Writers Guild of America, and the Academy of Cinema Editors.
Born in New York City and raised in Los Angeles, Abrams planned to go to film school after high school but ultimately enrolled at Sarah Lawrence College following his father's advice that "it's more important that you go off and learn what to make movies about than how to make movies."
Abrams and his wife, Katie McGrath, are well known for their support of causes that work to level the playing field and advance justice in Los Angeles and across the country.
About Jamal Joseph
Oscar-nominated writer and director Jamal Joseph's work has appeared on HBO, Fox, New Line Cinema, Warner Brothers, and A&E. He is the author of Panther Baby: A Life of Rebellion and Reinvention, a memoir based on his time in the Black Panther Party. Most of his work has been inspired by his passion for human rights and social justice. Joseph was a 15 year-old honor student when he joined the Panthers in the turbulent 1960s and was subsequently imprisoned as one of the New York Panther 21. While incarcerated, Joseph wrote five plays, two volumes of poetry, founded a theater company, and earned two college degrees.
After his release from prison, Joseph received a fellowship from the Sundance Film Institute. He became a poet and playwright, and earned an Oscar nomination for his work on the song "Raise Up" for the film August Rush. Joseph is the author of Tupac, Legacy, and also penned the script for a Broadway musical based on the life of Tupac Shakur. He wrote and directed Drive By: A Love Story, Da Zone, and the docudrama Hughes Dreams Harlem. His film, Chapter & Verse, a story about prison and second chances, was released in 2017 to critical acclaim. He is also the author of several screenplays, including: Ali: An American Hero, New York Undercover, Knights of the South Bronx, and The Many Trials of Tammy B.
Currently, Joseph is a professor at the Columbia University School of the Arts Film program, the founder and artistic director of IMPACT Repertory Youth Theater of Harlem, and the executive director of New Heritage Films, a not-for-profit organization that provides training and opportunities for minority filmmakers.
---
About Sarah Lawrence College
Founded in 1926, Sarah Lawrence is a prestigious, coeducational liberal arts college that consistently ranks among the leading liberal arts colleges in the country. Sarah Lawrence is known for its pioneering approach to education, rich history of impassioned intellectual and civic engagement, and vibrant, successful alumni. In close proximity to the unparalleled offerings of New York City, the historic campus is home to an intellectually curious and diverse community.