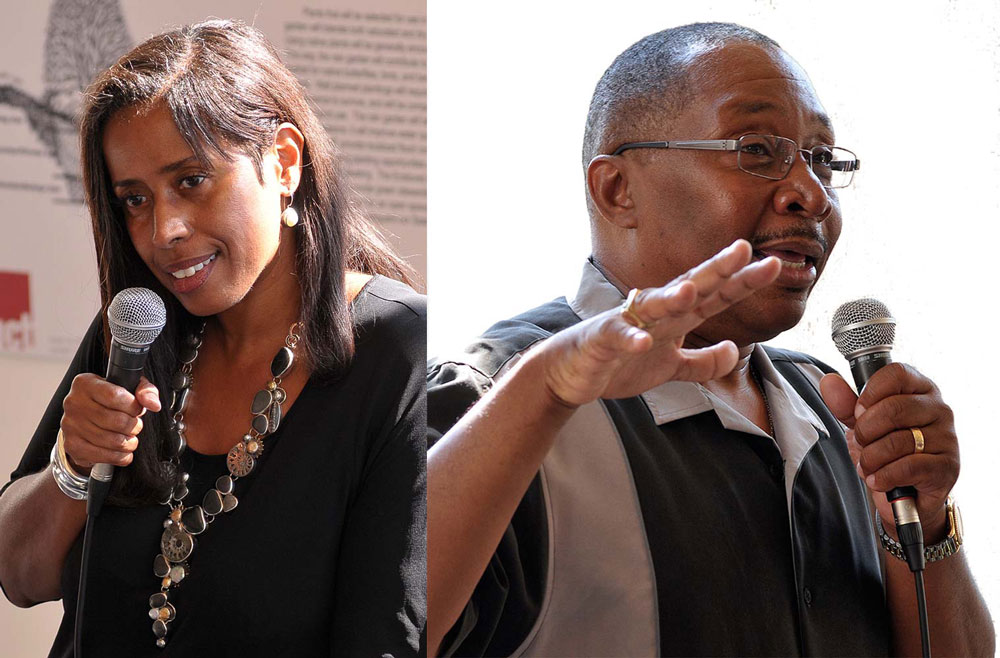 Sarah Lawrence College presents "Artists Talk," a program in conjunction with an exhibit of artist Vinnie Bagwell's Enslaved Africans Rain Garden project, Thursday, March 2 at 6 p.m. in Reisinger auditorium. Bagwell and spoken word artist Ty Gray-EL will speak about the project that honors the enslaved Africans who resided at the historic Philipse Manor Hall in downtown Yonkers, six of whom were the first to be manumitted by law in the United States, 79 years before the Emancipation Proclamation.
On display in the College's Esther Raushenbush Library through May are five bronze sculptures depicting a lithe woman balancing a bucket on her head and carrying fish (I'Satta), an elder woman pausing to rest on a hoe and pray (Bibi), a somber boatman (Themba), and two companion children (Sola and Olumide). These sculptures are smaller models of the life-sized sculptures that will ultimately form a permanent installation in a rain garden setting on the banks of the Hudson River. The first of the life-sized sculptures, I'Satta, will be unveiled and displayed at Sarah Lawrence in the near future.
Accompanying the sculptures in the exhibit are mounted texts providing the viewer with an historical context of slavery in New York State. The exhibit encourages visitors to wonder about enslaved Africans, their origins and families, their languages, daily routines, religious beliefs, music, and thoughts.
"Although Africans were a vital part of American society from the earliest colonial times, there are few landmarks that recognize their presence in the United States," says Bagwell. "Africans helped to build our cities, but no representational statues were built in their honor. No streets, squares, buildings, or rivers have names with origins in their cultures," she says. "That is the inspiration for this project to be built in a public space and which will invigorate the community, generate civic dialogue, and support environmental policy."
---
About Sarah Lawrence College
Founded in 1926, Sarah Lawrence is a prestigious, coeducational liberal arts college that consistently ranks among the leading liberal arts colleges in the country. Sarah Lawrence is known for its pioneering approach to education, rich history of impassioned intellectual and civic engagement, and vibrant, successful alumni. In close proximity to the unparalleled offerings of New York City, the historic campus is home to an intellectually curious and diverse community.