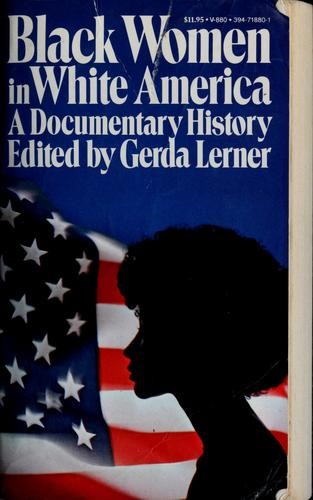 The Sarah Lawrence College Graduate Program in Women's History presents: "Black Women in White America, Revisited" Friday and Saturday March 3 - 4. The conference is free and open to the public. For more information, visit the conference website.
Forty-five years after women's movement leader Dr. Gerda Lerner published her pioneering study Black Women in White America, the nation's first graduate program in Women's History that Lerner co-founded with Dr. Joan Kelly Gadol, puts the spotlight on her seminal work. "Black Women in White America, Revisited," the College's 19th annual Women's History conference reassesses the legacy of Gerda Lerner's path-breaking scholarship.
A great deal has changed since 1972. Then, in the political arena, a Black woman, Congresswoman Shirley Chisholm was waging a competitive campaign to become the first woman president of the United States. And activists across the country were fighting an uphill—and ultimately unsuccessful—battle to pass the Equal Rights Amendment. Does the adage "the more things change, the more they stay the same" apply in the case of Black women in America today?
How has the expansion of scholarship by and about women of color enhanced our knowledge of women's history and necessarily challenged previous assumptions? How has ongoing structural inequality undermined the gains of the women's movement of the 1970s? What is the status of all women in a multiracial, multicultural, diversely religious, but still deeply fractured America today?
"In 2017, our work is as vital as ever and I am thrilled that the illustrious scholar, Dr. Nell Painter, will serve as our keynote speaker," says Mary Dillard, director of the Women's History Program. "We remain committed to providing a platform for women's voices, intellect, and activism, for years to come."
On Friday, March 3, the conference will feature the keynote speaker, noted historian Dr. Nell Painter, Princeton University's Edwards Professor of American History, Emerita, a distinguished author of many books, including Standing at Armageddon: A Grassroots History of the Progressive Era, The History of White People, and Sojourner Truth: A Life, A Symbol.
Panel topics on the second day of the conference, Saturday, March 4, include; Serving While Black and Female: Race, Gender, and Resistance in 20th-Century American Capitalism; Resistance and Empowerment, Black Women In Medicine: Pioneers in Gender, Racial and Social Equity in Medicine; Black Women's Activism in the Civil Rights Movement; Black Women, Activism, and the Arts, and Engaging Diaspora: Perspectives of Black Women in Latin America.
---
About Sarah Lawrence College
Founded in 1926, Sarah Lawrence is a prestigious, coeducational liberal arts college that consistently ranks among the leading liberal arts colleges in the country. Sarah Lawrence is known for its pioneering approach to education, rich history of impassioned intellectual and civic engagement, and vibrant, successful alumni. In close proximity to the unparalleled offerings of New York City, the historic campus is home to an intellectually curious and diverse community.