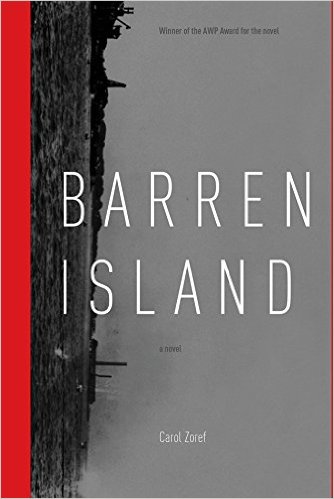 As immigrants are under assault, a new, award-winning book by a Sarah Lawrence College writing instructor celebrates the melting pot that is the backbone of New York.
Barren Island, released today, looks at the squalid and hardscrabble lives of Jewish, Greek, Italian, Irish, and African-American families that inhabit the factory island in New York's Jamaica Bay. The story is particularly relevant as the nation is conflicted over the issue of immigration.
Carol Zoref, Director of the Writing Center at Sarah Lawrence College, won the 2015 AWP (Association of Writers and Programs) Prize for the novel and will be giving a reading of her work at the association's annual conference this weekend in Washington, DC. She will also give a writing presentation at the College on April 6. 
"The AWP awards are known for their tradition of excellence; their judges are always among the most distinguished literary minds in the country," said Brian Morton, director of the College's MFA program in writing. "The AWP novel award is a great and well-deserved honor for our colleague."
Barren Island is Zoref's first novel. It is a poignant story of the immigrant families who form a tight-knit community in one of the harshest environments, and is a tribute to the indomitable spirit of immigrants. The story is told from the viewpoint of the fictional narrator, Marta Eisenstein, who gives a vivid picture of the island where the city's dead horses and other large animals were rendered into glue and fertilizer from the mid-19th century until the 1930's.
As the descendant of Jewish immigrants, Zoref can relate to the lives of her characters but says the book is not based on her family's story.
"None of my relatives ever lived on an island in Jamaica Bay nor did any of them work in a glue rendering factory, though all four of my grandparents were Jewish immigrants from Eastern Europe. The last of them died more than thirty years ago, long before I began writing this book. They all worked in garment factories at one time or another and they all lost immediate family and other relatives to the Holocaust. At least one of them entered the country illegally using a visa intended for someone else. These details are shared by many—though not all—Jewish families that came to the US in the late 19th and 20th centuries," she said.
Sales of the book, published by New Issues Press, an independent press associated with Western Michigan University, began yesterday on Amazon.
---