"We at the Sarah Lawrence writing program are more devastated than we can say by the death of Tom Lux. Tom did as much as anyone to shape the writing program at Sarah Lawrence, and the mark he left on it continues to define it to this day. As an inspiration to other writers, Tom was unparalleled; to be in Tom's presence was to be reminded of the beauty and nobility of the literary calling."

Brian Morton
Director, Writing Program
Sarah Lawrence College mourns the death of poet and long-time writing faculty member Tom Lux.
Tom was an integral part of the Sarah Lawrence faculty from 1975-2002, and continued for years to give master classes in the Graduate Writing Program and to teach every summer in the Summer Seminar for Writers, remaining a revered part of the Sarah Lawrence family until the end of his life. Read a tribute to Tom in The Boston Globe
His numerous books of poetry include To the Left of Time (Mariner Books, 2016), Child Made of Sand (Houghton Mifflin, 2012); God Particles (Houghton Mifflin, 2008); The Cradle Place (Houghton Mifflin, 2004); New and Selected Poems, 1975-1995 (Houghton Mifflin, 1997), which was a finalist for the 1998 Lenore Marshall Poetry Prize; and Split Horizon (Houghton Mifflin, 1994), for which he received the Kingsley Tufts Poetry Award. The list goes on and on.
Writing faculty member Vijay Seshadri had this to say about Tom: "Tom was a part of the legendary Sarah Lawrence writing community—the one that included Grace Paley, Jean Valentine, Jane Cooper. He was the youngest of that crew and he was a bridge between their otherworldliness and idealism and our more practical realm. They relied on him as much as we did. Everyone teaching in the writing program here, everyone who has been taught in the writing program here, and many people from all over the campus for the past forty years have been influenced, whether they know it or not, by his designs and plans, his character, and his human vision. He loved the College and he did wonderful things for it." Vijay also shared a touching tribute to his friend online, which can be read at DailyO.
Tom's passing is a huge loss for all members of the College community. An on-campus memorial will be held Saturday, May 6.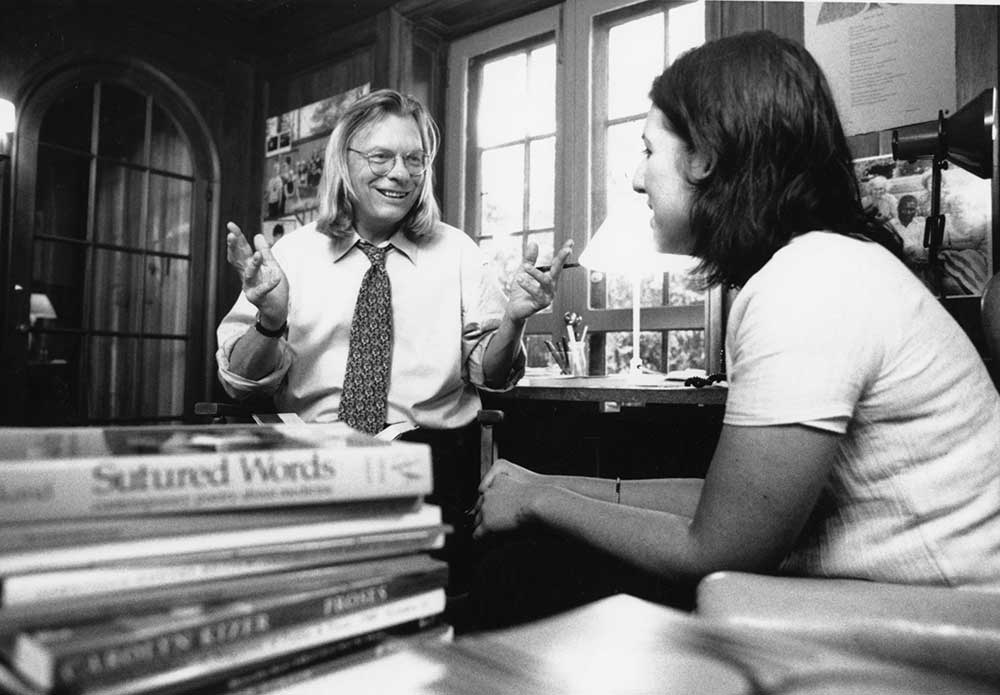 Photos taken in 1995 by Bill Melton; courtesy of the Sarah Lawrence College Archives
---
About Sarah Lawrence College
Founded in 1926, Sarah Lawrence is a prestigious, coeducational liberal arts college that consistently ranks among the leading liberal arts colleges in the country. Sarah Lawrence is known for its pioneering approach to education, rich history of impassioned intellectual and civic engagement, and vibrant, successful alumni. In close proximity to the unparalleled offerings of New York City, the historic campus is home to an intellectually curious and diverse community.