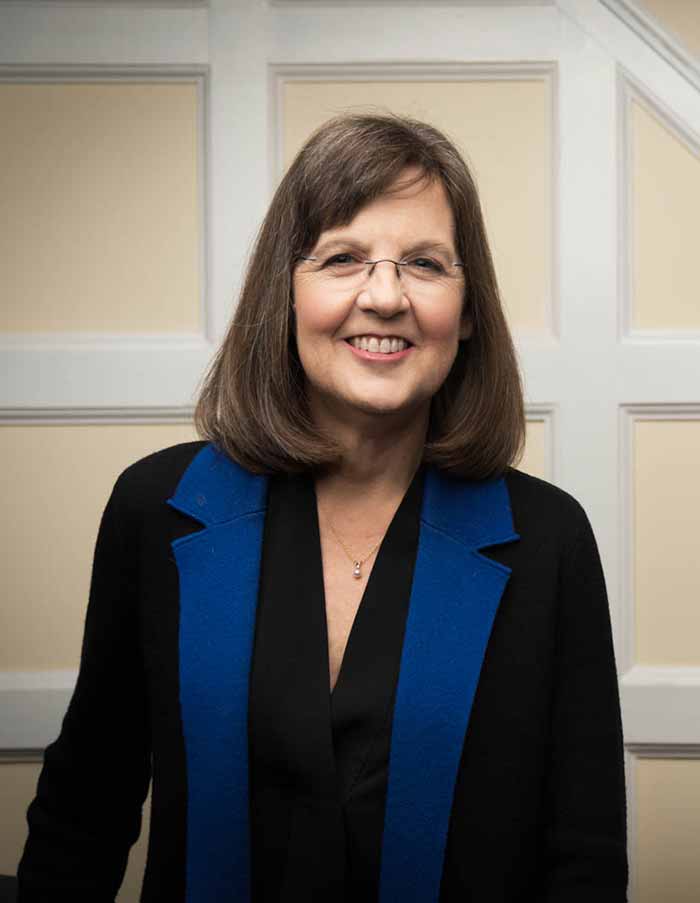 The Trustees of Sarah Lawrence College are delighted to announce that Cristle Collins Judd has been named the College's 11th president. Dr. Judd will succeed Dr. Karen R. Lawrence, who will conclude her tenure as president in July 2017.
Sarah Lawrence has thrived during Dr. Lawrence's 10-year presidency, increasing the size and diversity of the student body, significantly increasing financial aid, setting new records for applications, joining Division III of the NCAA, and spearheading the most successful fundraising campaign in its history, with nearly $130 million raised to date toward a goal of $200 million.
"Cristle Collins Judd is the ideal person to lead Sarah Lawrence and to ensure that we build on our recent successes," says Mark P. Goodman '83, Chair of the College's Presidential Search Committee and its Board of Trustees. "She is a proven leader, a dedicated teacher, a distinguished scholar, and an astute observer of the American higher education landscape. Cristle's career has given her a broad network within and beyond the academy and a valuable, wide-aperture understanding of liberal arts colleges across the country and the opportunities and challenges they face today."
Dr. Judd joins Sarah Lawrence from the Andrew W. Mellon Foundation, where she is Senior Program Officer for Higher Education and Scholarship in the Humanities. At Mellon, she has led foundation initiatives in support of liberal arts colleges, graduate education, arts on campus, digital humanities, and advanced scholarship. She has worked with college and university presidents and provosts from around the country to address the most pressing issues facing higher education today, including diversity and inclusive excellence, the value of the liberal arts, the role of the arts and humanities in civil society, and the cost of higher education.
"Cristle is a noted scholar, an experienced administrator, and an accomplished leader," says Earl Lewis, president of the Mellon Foundation. "During her time here, she has developed a great range of grants and initiatives that have richly enhanced the foundation's work. She has the full complement of skills needed to successfully lead an elite liberal arts college in this period of heightened diversity and complexity."
Says Dr. Judd: "I have long known about the special qualities of Sarah Lawrence students—their creativity, their intellectual passion, their desire to dig deep, their aspiration to change the world—and the way these qualities are cultivated in one-on-one work with a superb faculty and dedicated staff, preparing students for meaningful lives that make a difference, as so clearly evidenced by the College's alumni. At this moment in history, when our greatest need is for people who can think creatively across a variety of disciplines to imagine bold solutions for complex problems, a Sarah Lawrence education is more important than ever.
"Higher education today faces daunting challenges including cost, value, outcomes, and diversity and inclusion, and Sarah Lawrence is not immune to these," Judd continues. "But as I have seen in my work at the Mellon Foundation, there are creative ways to address these issues. Sarah Lawrence's history of experimentation, of nimbleness and flexibility, of innovation in both undergraduate and graduate education, coupled with its foundational commitment to the arts and liberal arts, positions the College to help lead the way. I am excited to join the Sarah Lawrence community as together we look to—and shape—the College's future prominence and success."
Before joining the Mellon Foundation, Dr. Judd served for nine years as dean for academic affairs and professor of music at Bowdoin College, where she was instrumental in fostering a culture of engaged intellectual inquiry among students through curricular innovation and renewal, a focus on academic and co-curricular advising, and enhanced support for student fellowships and research. Together with faculty and staff, she created nationally recognized programs for faculty development, championed efforts for diversity and inclusion, and supported new policies addressing work–life balance and workplace equity. Prior to serving at Bowdoin, Dr. Judd was an award-winning professor of music at the University of Pennsylvania, where she served on the faculty for 13 years.
"Cristle's accomplishments and wide-ranging contributions while at Bowdoin were extraordinary," says Barry Mills, Bowdoin's president from 2001 to 2015. "She guided Bowdoin's academic program with vision, creativity, and a clear focus on excellence, and there is no question that her legacy will endure for a very long time." 
Dr. Judd earned her BM and MM in music performance and musicology from the Shepherd School of Music at Rice University and her MM and PhD in music theory from King's College, University of London. Her research is widely published, and she has served on the boards of the Society for Music Theory and the American Musicological Society, as well as on the editorial boards of various journals.
Upon taking office, Dr. Judd plans to reside in the President's House with her husband, Robert Judd, the executive director of the American Musicological Society. The Judds have three daughters: Katie (27), Hannah (22), and Sarah (20).
---
Thoughts from Dr. Judd's Peers 
"Sarah Lawrence has long championed innovation in the arts and humanities. Cristle has devoted her career to doing the same. An award-winning educational innovator during her time as a Penn faculty member, Cristle pulled out the stops to make the musical arts a permanent addition in the homes and hearts of our students. Her early efforts achieved such success that today it's hard to picture Penn's undergraduate College House system without the musical instruction and performances that help make the residential experience at Penn so unforgettable." –Amy Gutmann—President, University of Pennsylvania
"Cristle Collins Judd brings a breadth of critical experience and a deep passion for the value of the liberal arts to this presidency. Cristle is a creative and innovative leader combining intellectual rigor and a playful imagination with energy, integrity, clarity of purpose, and a commitment to collaboration and inclusiveness. Through her work at Bowdoin and at the Mellon Foundation she has demonstrated her capacity to apply her vision and her many skills to solve the toughest challenges and find the most promising opportunities for liberal arts colleges." –Kimberly Cassidy—President, Bryn Mawr College
"Artist, scholar, administrator, Cristle Collins Judd brings creativity, discipline, and practicality to everything she touches. At the Andrew W. Mellon Foundation, she midwifed a series of extraordinary collaborative grants to bring together people and institutions, many from outside the Foundation's traditional portfolio and from across cultural, educational, and commercial sectors. She coaxed those actors to move beyond easy collaborative agreements to new, generative ventures with the potential to transform themselves and the communities to which they belong. Her broad and deep experience in the liberal arts catalyzed the re-imagination of the academic and student experience at Bowdoin, and the music department at the University of Pennsylvania. Hers is not just a sense of style that abhors waste, but one that nourishes the creative and welcomes the unforeseen. The arts and humanities burn brighter in her presence, and I and others eagerly anticipate the fruits of the partnership between her and higher education's storied Sarah Lawrence College." –Donal O'Shea—President, New College of Florida
"There are many pathways to a college presidency, but one of the most formative and illuminating is the opportunity and privilege of leading a higher education program at a national foundation. During the past few years, I have watched Cristle Collins Judd consistently demonstrate a thoughtful, collaborative, capacious, and nuanced understanding of the challenges facing all sectors of American higher education. Cristle is exceedingly well-prepared to lead Sarah Lawrence, to share her knowledge, passion, and belief in the transformative power of a residential liberal arts education, and to be an eloquent, creative, and humane leader for years to come." –Eugene M. Tobin—Senior Program Officer, The Andrew W. Mellon Foundation; Former President, Hamilton College
"In electing Cristle Collins Judd as its president, Sarah Lawrence has found an extremely capable leader. I first met Cristle when she assumed the position of Dean at Bowdoin, and we've collaborated since in her capacity as Program Officer at Mellon. She is smart, creative, and committed, and she has a deep understanding of the pressures and opportunities facing American higher education. I am sure that Sarah Lawrence will flourish during her tenure." –William D. Adams—Chairman, National Endowment for the Humanities
"I'm thrilled for Cristle to have the opportunity to lead such a distinguished institution at such a critical time in its history. She possesses a keen intellect and the ability to grasp disciplines far afield from her own areas of scholarship. I have long been impressed by her ability to advocate for and support STEM disciplines as well as the arts and humanities. Cristle is a passionate and persuasive advocate for the liberal arts — she's the right person at the right time for Sarah Lawrence." –Michele G. Cyr, M.D., MACP—Chair, Bowdoin College Board of Trustees; Associate Dean for Academic Affairs, Division of Biology and Medicine; Professor of Medicine; and Professor of Medical Science, Brown University
"I am absolutely thrilled at the appointment of Cristle Collins Judd as Sarah Lawrence's next president. Having worked with Cristle at the Andrew W. Mellon Foundation on the book series, Our Compelling Interests: The Value of Diversity for Democracy and a Prosperous Society, and as a Sarah Lawrence alumna who treasures the special breadth and depth of a Sarah Lawrence education, I am especially excited by her commitment to the generative role that the liberal arts plays in cultivating the voices of our diverse next generation of students, scholars, leaders, and citizens. Following on the substantial successes of President Karen Lawrence, Cristle Collins Judd has both the scholarly and leadership experience to inspire and enact great work at our great college, and I look forward eagerly to seeing Sarah Lawrence continue to thrive under her leadership." –Nancy Cantor '74—Chancellor, Rutgers University–Newark
"Cristle has everything by way of talent, experience, and temperament to make a marvelous president for Sarah Lawrence. Not to be overlooked in this or any other context is that she is an extremely talented scholar and has the experience of working in a great research university. But she also has the long experience of working both as a teacher and an administrator in a first-rate liberal arts college. To all of this she brings an easy-going and outgoing personality that will engage and earn the respect of students, faculty, and alumni alike. She has exactly the right values." –Don Michael Randel—President Emeritus, The University of Chicago; President Emeritus, The Andrew W. Mellon Foundation
---