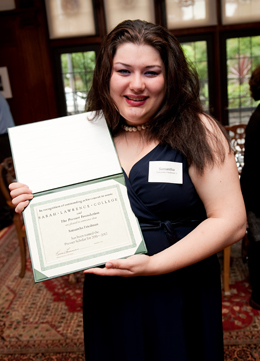 Sarah Lawrence College senior Samantha Friedman has been selected by the Music faculty at Sarah Lawrence College as the 2011-12 Presser Music Scholar. The Presser Music Scholar Award is given to an undergraduate student demonstrating excellence and outstanding promise for a distinguished career in the field of music.
Samantha, a mezzo-soprano from New Jersey, has been training in classical voice since age seven. She has attended summer training programs including the New Jersey Governors School of the Arts, a full scholarship program, SongFest at Pepperdine University, and the Institute of Young Dramatic Voices, also a full scholarship program. She completed her pre-college at Westminster Choir College, where she graduated with highest honors. She also won the New Jersey-NATS Doris Lenz Award and was selected as a national-level finalist in Classical Singer Magazine's High School Competition.

At Sarah Lawrence, Samantha is studying music and languages (Italian, French, and Russian). Last year, she sang the role of the Sorceress in Dido and Aeneas with the College's Baroque Ensemble, and this spring she will sing Gertrude and Rosina in Hansel and Gretel with the Sarah Lawrence Orchestra. Additionally, she was the Musical Director of a student production of Rent this semester, and she continues in her role as House Manager for the Music Program's Concert Series.
"I've had the honor of annually taking part in the presentation of the Presser Award, and introduce students who have shown great accomplishment in their work in music at Sarah Lawrence. Sam is both accomplished and superb, but in her case her accomplishments started a long time before she got to the College. She was already a professional when she arrived here in 2008," said Chester Biscardi, Director of the Music Program.