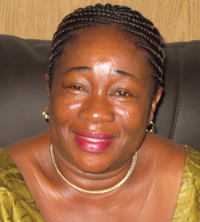 Two women who are being recognized for extraordinary contributions to the lives of women and girls in the wake of war and natural disaster, Juliana Konteh from Sierra Leone and Savithri Wijesekera from Sri Lanka, will speak at Sarah Lawrence College on Wednesday, October 5 at 5:30 p.m. in the Donnelley Theatre of the Heimbold Visual Arts Center. The following day they will be officially honored for their work at an event in New York City.
Americans for UNFPA's (United Nations Population Fund) 2011 international honorees, Konteh (pictured top right) is Director of the Women in Crisis Movement in Sierra Leone and Wijesekera (pictured bottom right) is Executive Director of Women in Need in Sri Lanka. The two women are speaking about how their work benefits women and girls who face unique hardships, including increased vulnerability to rape, trafficking, exploitation and domestic violence, often overlooked in relief and recovery planning.
In Sierra Leone, Konteh helps women whose lives have been devastated by the brutality of a civil war in which rape was systematically used as a weapon. Her program provides counseling, temporary shelter, vocational skills training, and start-up funds to help women re-build their lives.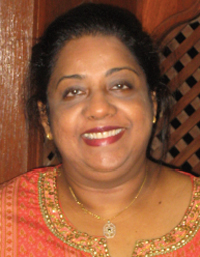 Working closely with law enforcement and hospital staff in Sri Lanka, Wijesekera uses her legal knowledge and training to address and prevent gender-based violence. Following the 2004 tsunami, she built community centers to provide safe spaces in the midst of natural disaster and its after effects.
Americans for UNFPA builds U.S. support for the work of the United Nations Population Fund, inspiring American citizens and institutions to connect their political and financial resources to this global effort. UNFPA is often one of the first responders on the ground when natural disasters and emergencies hit, and it is often one of the only organizations focused on the special needs of women and girls. In the midst of emergencies, UNFPA works to protect maternal health, prevent HIV, provide psychosocial support, and help ensure the security and dignity of women and girls.
The talk is sponsored by Health, Science and Society, a multidisciplinary cluster of undergraduate and graduate programs and events at the College, which bring together perspectives from the humanities, creative arts, social sciences, and natural sciences.