Brooke D. Anderson '86, Joyce Zankel Lindorff '71, and Nell Minow '74 will be recognized for their outstanding accomplishments in government and public service, music and education, and corporate governance, respectively, during Reunion Weekend at Sarah Lawrence College taking place June 4-5.
Fifteen years ago, the Sarah Lawrence Alumnae/i Association established an annual recognition program to honor outstanding Sarah Lawrence alumnae/i. The Citation for Achievement is given to a person or persons whose work embodies the values and ideals of a Sarah Lawrence education, with the understanding that there is no one yardstick for achievement. Previous winners include vocalist Meredith Monk '64, actress Jane Alexander '61, neuroscientist W. Ian Lipkin '74, film director Jonathan Avnet '71, novelist Allan Gurganus '72, Barbara Taylor Bowman '50, early childhood expert and co-founder of the Erikson Institute, and Joan Rosen Marks '51, director emerita of the Human Genetics Graduate Program at Sarah Lawrence, the first and largest program in genetic counseling.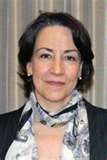 Ambassador Brooke D. Anderson '86 is Deputy Assistant to the President and Chief of Staff and Counselor for the National Security Staff at the White House. Respected for her expertise in nonproliferation, her experience as a US ambassador representing the United States at the United Nations, and her service in top-level positions in the US Department of Energy, US Congress, and nonprofit sectors, Anderson got her start working in the international arena with an internship at the UN during her senior year at Sarah Lawrence.  From 2009 to 2011, Anderson served at the United States Mission to the United Nations. She also served as Policy Advisor and Senior National Security Spokesperson for President Barack Obama's transition team. From 2001 to 2008, Anderson was a senior official at the nonprofit Nuclear Threat Initiative working to reduce global threats from nuclear, biological, and chemical weapons, and she was co-director of the Nuclear Security Project, which advances concrete steps toward the goal of a world without nuclear weapons. Anderson also served at the White House in the Clinton Administration.

Harpsichordist Joyce Zankel Lindorff '71 has performed in concert halls all over the world. She has also taught music in Asia for six years, including positions at the Shanghai Conservatory of Music, Hong Kong Baptist University, and Xi'an Conservatory of Music. While in Asia, she conducted groundbreaking research on the history of harpsichord in China and became an expert on Teodorico Pedrini and Tomas Pereira, European music masters to the Chinese court during the Baroque period. Lindorff has been a Fulbright Scholar as well as the recipient of a Pro Musicis Artist Award and a grant from the National Endowment for the Arts. The first to record the complete Rossignoto by Alessandro Poglietti, Lindorff's performance earned high praise from music critics, who called it "absolutely breathtaking." Lindorff also co-founded and directed the summer Baroque music festival Music at Fishs Eddy. Holding a doctorate from Juilliard, she is currently professor of keyboard studies at Temple University's Boyer College of Music and Dance.

Nell Minow '74 has followed unlikely parallel careers; she's an award-winning corporate watchdog—and a popular family movie critic. Minow is the Risky Business columnist for Bnet, the hub of the CBS Interactive Business Network, and serves on the board of Governance Metrics International, an independent research firm leading the charge for corporate transparency and accountability. The firm was formerly known as The Corporate Library, for which she was editor and co-founder. Directorship magazine named her one of the field's 20 most influential people, BusinessWeek online called her "the queen of good corporate governance," and she received the prestigious International Corporate Governance Network Award in 2008. Minow, previously an attorney with the United States Environmental Protection Agency, the Office of Management and Budget, and the Department of Justice, is a graduate of the University of Chicago Law School. In addition to providing analysis of investment and litigation risk and corporate board effectiveness for numerous publications, she co-authored three books on corporate governance, authored The Movie Mom's Guide to Family Movies, and reviews movies and DVDs for newspapers, on radio, and for her blog, The Movie Mom.