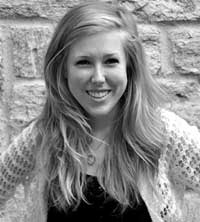 Sarah Lawrence College junior Meghan Roguschka has been selected as a 2011 Morris K. and Stuart L. Udall Scholar in recognition of her commitment to the environment. With her scholarship she will continue her current research on the role that women play in societal development. Her most recent research concerns the impact of the Hindu caste system on women's rights in India.
Roguschka developed an interest in this topic after spending last summer in a small village in Central India where, funded by the Davis Projects for Peace Fellowship Program, she worked to implement a sustainable gardening project.
This semester, Roguschka is studying Language and Race (Anthropology), Collective Violence and Political Change (Political Science), Marxian and Post-Keynesian Economics (Economics), and documentary photography. She intends to pursue a doctorate in philosophy in international development studies, with a focus on women's rights and environmental justice in southern Asia.
The Udall Foundation is an independent federal agency, established by Congress in 1992 to provide federally funded scholarships for college students intending to pursue careers related to the environment. The Udall Foundation is dedicated to educating a new generation of Americans to preserve and protect their national heritage through scholarship, fellowship, and internship programs focused on environmental and Native American issues.
For more information on the Udall Scholarship, contact Evelyn Leong, Associate Dean of Studies, at eleong@sarahlawrence.edu.