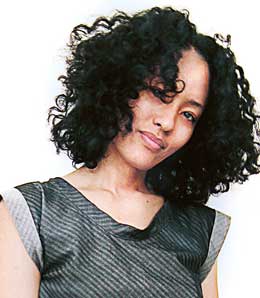 Sarah Lawrence College junior Kioka Williams has been awarded the 2011 Davis Projects for Peace Fellowship for her "Peace-ing together a Community in Transition" project in her former neighborhood of Bedford-Stuyvesant, NY.
The goal of the project is to create a fiber mural/fiber sculpture from leftover textiles that remain after clothing swaps. Williams, who regularly coordinates clothing swaps in this neighborhood, will work with local residents and organizations to host workshops that will teach individuals basic crafting skills. Most importantly, participants will learn the current relevance (as well as the historic value and cultural significance) of textile waste as material for art making. The unveiling of the artwork will take place in August with a neighborhood party to commemorate the effort and contributions by the residents and organizations involved.
"The goal of this project is to bring together neighbors who might not have the chance to meet otherwise by providing three basic but important elements: time, space, and opportunity. In my eyes, this is an effective, powerful, interactive, and transformative method of creative peace-making," says Williams.
The Davis Projects for Peace, the vision of philanthropist Kathryn Wasserman Davis, invites undergraduates at American colleges and universities in the Davis United World College Scholars Program to design grassroots projects with the objective to encourage and support today's motivated youth to create and tryout their ideas for building peace.
Sarah Lawrence College has been a participating institution in the Davis Projects for Peace Fellowship Program since 2009. Previous students who have been awarded Davis Fellowships have conducted research in Brazil (2009) and India (2010).
For information about the Davis Projects for Peace Fellowship, contact Evelyn Leong, associate dean of studies, at eleong@sarahlawrence.edu.