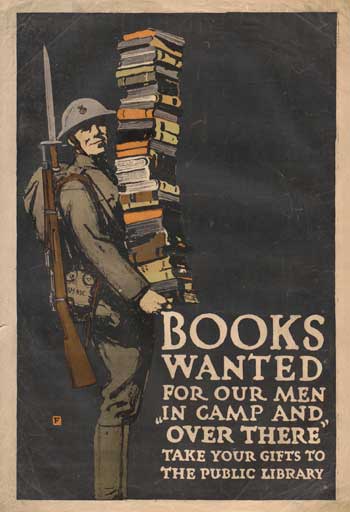 An exhibit of 40 framed vintage posters from World War I, featuring famous images of patriotic themes and messages, is on display in the Esther Raushenbush Library at Sarah Lawrence College through Thursday, June 30. The exhibit is free and open to the public. For more information, please call (914) 395-2470.
The exhibit documents "the first major national marketing campaign in 20th-century America [which] came not in the form of branding a product or selling a service but in the moving of an entire country, at a rapid pace, into the arena of a world war through the use of printed images," said curator Allison Hays Lane, Sarah Lawrence Class of 1983, in the introduction to the book she authored accompanying the exhibit. "The unifying aspect of this national marketing campaign was that these images became the great equalizing force in American culture. People of all backgrounds and classes, rural or urban, educated or uneducated, rallied to the cause."
The exhibit was first installed at the San Antonio Public Library, and has traveled to the Chicago (Illinois) Public Library, the Wichita (Kansas) Public Library, the Kansas City (Missouri) Public Library, the Evansville Vanderburg County (Illinois) Public Library, the Harford County (Maryland) Public Library, and the Memphis (Tennessee) Public Library.