What makes a house a home? What would you take from your house in the case of a fire? And maybe most importantly, how do you feel about wall-to-wall carpeting?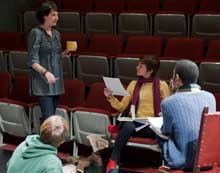 Fifteen theatre students recently posed these questions and more to friends and family members as part of a project with The Civilians, a Manhattan-based theatre group that came to campus for a two-week residency in January. The students edited their interviews into three eight-minute vignettes about the theme of "home," creating an original piece of theatre in which each actor played an interviewee.
The Civilians—whose productions are often labeled as docudrama or investigative theatre—are known for chiseling interviews and research into original performances. For their current project, You Better Sit Down, they interviewed their parents about their marriages and subsequent divorces. Both The Civilians and the theatre students performed at Sarah Lawrence on January 29.
Jennifer Morris, a founding member of The Civilians, directed the residency. She led the students through a shortened version of the troupe's own process of creation: brainstorm a topic and questions, interview people, then splice together the interviews into characters, and, ultimately, into a show.
During the editing phase, Morris encouraged the students to move pieces of the interviews around if it created a better fit, or communicated something more clearly.
"The end result is not about strict adherence to fact. It's based more on perceptions, and the symbolism that emerges in the process of collaboration," Morris said.
Contradictions abounded: Charles Peoples III '12 was struck that one of his interviewees could consider a home "great" both because everyone had their own separate room and because they all ate dinner together at night.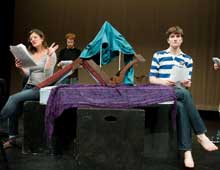 "So the house felt homey because you could all get away from each other?" he asked during one of his group's brainstorming sessions, laughing.
With Morris' encouragement, the students jumped on this idea. "It doesn't have to make sense!" she said. "People are weird. They say contradictory things!"
The "weirdness" of people is something The Civilians often use to access the complex, layered nature of human character. They don't shy away from difficult or controversial topics, either. One of their shows was crafted from interviews with people who attended Ted Haggard's church in Colorado, addressing the growing politicization of the Christian conservative movement. Another current project, Pretty Filthy, is the first major musical about the porn industry.
Even though The Civilians have performed You Better Sit Down before, their shows often take years to fully develop, and Morris considered this one still in progress.
"Our process absolutely benefits from working with students," Morris said. In addition to creating their own vignettes, the theatre students sat in on The Civilians' rehearsals and offered ideas for improvement.
The residency was a perfect fit for Sarah Lawrence, said Robert Lyons, creative director of the theatre program. He pointed out that the collaborative, creative nature of The Civilians' process reflects the College's own educational style.
The residency gave students "the opportunity to work hand-in-hand with New York's finest artists in the process of making theatre," he said. "It expands students' ideas about how theatre can be made."
Zachary Wagman '13, who first became involved with theatre in middle school when he auditioned for The Taming of the Shrew to impress a girl, particularly enjoyed the interactive nature of interviewing people.
"It's weird how the smallest things in others' lives, like their childhood home, are so interesting, and yet if you were to ask them, they would think that it was the most boring thing in the world."
Another student was shocked to learn that her boyfriend would take his dog's ashes and his childhood teddy bear from his house if it were burning—perhaps pointing to the best aspect of The Civilians' methods: you never know what you'll discover.