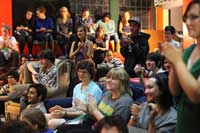 The gathered students were hushed, and even the baristas behind the counter stopped using the noisy blenders, despite the glut of milkshake orders. At 10:35 p.m. in the Black Squirrel, all eyes were on the first-year girl sitting on a stool before the audience. To alleviate the intensity of the moment, she muttered into the mic, "God farted and I came out," which drew a few smiles. "Here's a song called 'The World Spins Madly On,' I dunno if you know it." She went on to play a three song set, covering love songs with a jazzy, syncopated style on her acoustic guitar, with a friend holding her lyrics sheet for her. Listeners smiled and nodded gently as she sang.
This was the third event in the Coffeehouse/Open Mic series this spring. The series is sponsored by the Sarah Lawrence Activities Council, and in only two years, it has become a centerpiece of campus life and a valuable venue for student artists to perform new work with the attention and support of their peers.
Dan Levin '13, the chair of the open mic series, blends right in with the undergraduate audience, wearing a crinkly flannel shirt with washed-out jeans and old sneakers. He looks somewhat like a dark-haired Kurt Cobain, a messy ponytail being the salient difference. Levin attended each and every open mic in his first year at SLC, performing songs on ukulele with his house-mate and reading his original poetry. Levin fell in love with the supportive, energizing community he found in the open mic audiences, recalling, "It's a great way to publicly workshop a piece."
As chair, Levin encourages an anything-goes, risk-taking spirit among performers. A recent event featured a 25-minute freestyle rap marathon—combined with a juggling act. "Open mic is like the social media of campus events," Levin says. "The content is all user-generated."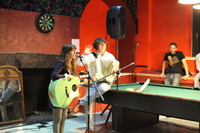 With encouragement from former co-chair Abby Hellauer '12, Levin applied to chair the open mic series for SLAC in his sophomore year as a way to promote for his fellow students the same supportive environment he had enjoyed as a performer. He remembered being surprised at how much behind-the-scenes work there was to be done for the job. "Abby had told me, 'Yeah, it's fun, you just have to go to a few meetings. But there's definitely more to it than that. It's nerve-wracking to feel responsible for the quality of an event like that."
To make the series run smoothly, Levin personally reaches out to 30 potential performers, inviting them to play at upcoming open mics, which happen twice monthly. The footwork pays off: the events typically feature a dozen or more artists performing in front of capacity-or-more crowds in the Black Squirrel.
Audience member Hayden Miller '13 enjoys the series. "Open mics are a great break for work," he says. "It's stimulating, to say the least, to see what other students can do creatively."
Between acts at the February event, one performer accidentally knocked over an empty milkshake glass. As it shattered on the concrete floor, 15 audience members simultaneously launched themselves forward to help clean up. Levin, about to announce the next performer, smiled into the microphone, "It's been a good open mic. It's all about the chaos."