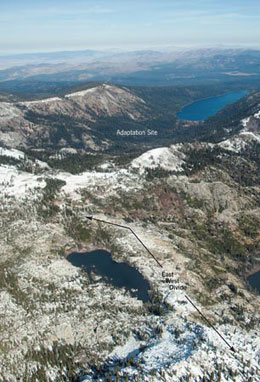 Newton and Helen Mayer Harrison, leaders of the eco-art movement, will discuss their work, including, "The Force Majeure," in the auditorium of the Heimbold Visual Arts Center at Sarah Lawrence College on Monday, February 14 at 5 p.m. The program is free and open to the public.
"The Force Majeure," which addresses the accelerating transaction between aspects of the Global Warming phenomenon and their interaction with the many ecosystems that are under stress or in actual turbulence from over-demand by human activity, has been on view at the Ronald Feldman Gallery in SoHo, where another of the Harrisons' installations, "Sierra Nevada: An Adaptation," will open on February 10.
The collaborative team of Newton and Helen Mayer Harrison have worked for almost forty years with biologists, ecologists, architects, urban planners and other artists to initiate collaborative dialogues to uncover ideas and solutions which support biodiversity and community development.

Past projects have focused on watershed restoration, urban renewal, agriculture and forestry issues, among others. The Harrisons' visionary projects have often led to changes in governmental policy and have expanded dialogue around previously unexplored issues leading to practical implementations throughout the United States and Europe.
Foundational figures in their field, they commented: "If you look at the field of critical thinkers in the Arts, you will, in the main, find a human-centered group of scholars, who most care about the human condition, loosely gathered under the title of social justice concerns. We have yet to find a critic who is ecologically literate. This is not a trivial matter, as the great problems that we will confront over the next 50-100 years are indirectly about human justice, but are more about how to confront the vast changes that are coming upon us."
This program is sponsored by the Noble Chair in Modern Art & Culture, the Barbara B. and Bertram J. Cohn Professorship in Environmental Studies, and the Mellon Initiative in Environmental Studies.