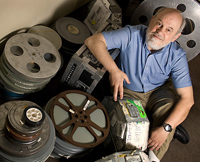 "How Motion Pictures Became the Movies" is the topic of a lecture by leading film scholar David Bordwell on February 3 at 6 p.m. in the Donnelley Film Theatre, Heimbold Visual Arts Center. The lecture is free and open to the public. For more information please call (914) 395-2412.
Bordwell, Jacques Ledoux Professor Emeritus at the University of Wisconsin, Madison, is the most distinguished and important Anglo-American film scholar of his generation. Roger Ebert has called him "our best writer on the cinema," and he has been the subject of a laudatory article by The New York Times film critic Manohla Dargis.
Bordwell's seventeen books, many of which have been translated into other languages, include ground-breaking contributions to film theory, the history of film style, and the study of individual filmmakers. Among his accomplishments he pioneered the introduction of cognitive psychology to film studies. He and his wife, Kristin Thompson, have influenced generations of film students through their widely used Film Art textbook. They were named film critics of the decade by the Independent Film Channel for their for their blog www.davidbordwell.net.
The program is sponsored by the film history and filmmaking faculties and the Spencer Barnett Memorial Fund.