In December 2010, Sarah Lawrence College marked ten years of its study abroad program in Cuba, celebrating its status as one of the first U.S. college programs—and the longest continuous program—established at the University of Havana since the break in diplomatic ties between the two countries in the early 1960s.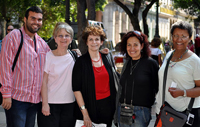 Reflecting on a recent visit to Cuba commemorating the affiliation between Sarah Lawrence College and the University of Havana, College President Karen Lawrence said: "Our international collaboration with the University of Havana has thrived under difficult circumstances and we are very proud of the quality of the program we have maintained over our decade of partnership."
Sarah Lawrence has increased its involvement with the University's Centro de Estudios Demográficos (CEDEM), a research arm of the institution responsible for the design of a core seminar course in the program that examines gender, health, education and sustainable development throughout Cuban society.
While the University of Havana is the College's overarching partner, SLC's offerings have broadened over the ten years of affiliation and now include course work in the humanities, literature and social sciences at the University, as well as film history at the Fundación del Nuevo Cine Lantinoamericano, and the performing and visual arts at the Instituto Superior de Artes (ISA).
Sarah Lawrence students are fully integrated into the university, take all courses in Spanish, follow the same curriculum and are subject to the same standards and requirements as Cuban students.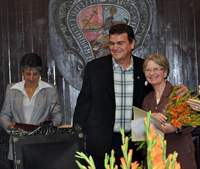 At the anniversary celebrations, attended by President Lawrence, College Trustee Joan Countryman, and Vice President Thomas Blum, SLC history faculty member Matilde Zimmermann was honored with the 280th Anniversary of the University of Havana Medal, awarded by the Rector of the University, in recognition of her outstanding scholarship and contributions to academic exchange.
Zimmermann has served as academic liaison to the university for the last eight years as well as providing guidance to the undergraduates who have spend a semester in Havana. Since the program's inception 120 students have studied in Cuba through the Sarah Lawrence program.
"For many students this has been a life-changing experience—and they bring back their academic knowledge as well as cultural information to Sarah Lawrence and the graduate schools they go on to attend," she said.
A member of the Sarah Lawrence faculty since 2002, Zimmermann has studied, taught, and written extensively about the Cuban and Nicaraguan revolutions, labor and social movements, and the African diaspora in the Caribbean and Latin America, among other scholarly endeavors.