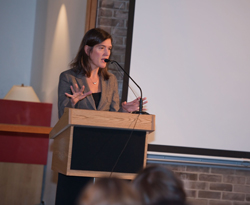 On November 2, Americans elected 45 Tea Party candidates to Congress.  It was the culmination of months of angry protests, "Don't Tread on Me" flags, and Sarah Palin endorsements.  Lately, the question that everybody has been asking Kate Zernike is, Just who are these people?
Two days after the election that put the Tea Party on the map, the journalist and author of Boiling Mad: Inside Tea Party America came to Sarah Lawrence to answer that very question.
Her answer, which threatened to leave liberals apoplectic: "The Tea Party is just us."  On election day, 40 percent of Americans claimed to support this emergent group.
Why? Tea Party candidates successfully addressed the issue that was critical to every American in 2010: the economy.  Their message of tight belts, balanced budgets, and reduced spending rang true with many Americans knocked off their feet by sweeping layoffs, shuttered businesses, and defaulted mortgages. Locally organized Tea Parties became a means for the disempowered to express their frustration with the slow recovery of the American economy under President Obama.
The Tea Party was also a coalition, Zernike explained. It united young political activists and older heads of household, rigid ideologues and pragmatic problem-solvers, those outraged by Obama's policy expansions and those frustrated with over-spending despite their own reliance on government programs.
One student asked, "I've heard so much about big money flowing to support these causes.  Is the Tea Party really grassroots?"  Zernike conceded that media engines like Fox News made the Tea Party a sensation, and that wealthy conservative groups such as Dick Armey's FreedomWorks, Americans for Prosperity, and the Koch Brothers had helped organize the many local Tea Parties on a national level.
But the Tea Party was nonetheless a grassroots movement, Zernike argued—the broad base of frustrated voters and activists just didn't exist before 2010. If Dick Armey and the Koch Brothers had been around for decades, why hadn't the Tea Party been around for that long, too?  The recession, and the economic frustrations that came with it, sparked the national brushfire that gave those donors and experts a grassroots movement to support.
After an hour of speaking and answering questions in the library's Pillow Room, Zernike talked with a small group of politics students over coffee and cookies.  Zernike predicted that there are ideological struggles looming within the movement's coalition.  Faced with the challenges of governance, Tea Party winners in Congress will have to reconcile their ideals with political reality—massive budget cuts and other measures don't happen quickly.  Even so, she said, the Tea Party will likely be a force to watch for years to come.
–Jess Unger '13