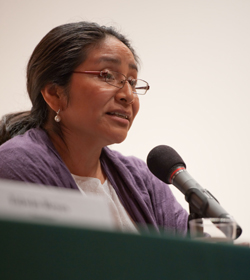 In Guatemala, many indigenous girls live in poverty, isolated by both language (they speak Mayan rather than Spanish) and by distance from urban areas. They usually leave school by age 12, and often marry soon after—adolescent marriage is a common practice among the traditional culture. As a result indigenous girls often have little or no time to consider other options for themselves and their lives.
Dr. Marta Julia Ruiz, an indigenous Guatemalan physician, wanted to change that. So in 2004 she started Abriendo Oportunidades, or Opening Doors, an educational and leadership program for girls and young women. In October, her work was honored at the United Nations: Ruiz was one of five honorees at the 2010 Awards for the Health and Dignity of Women, presented by Americans for UNFPA (the United Nations Family Planning Agency).
On October 6, Ruiz spoke about Abriendo Oportunidades at Sarah Lawrence. In 34 rural Guatemalan communities, the program has created safe, girls-only spaces where local teenagers can practice Spanish, learn about sexual health, and consider alternatives to early marriage and home life. These young women then reach out to younger girls, spreading the word. Participants in the program are introduced to careers outside of family-rearing and "develop their skills as leaders, earners, and organizers," Ruiz said.
After a video and a brief overview of her work, Ruiz took questions from the audience. She spoke through a translator, although one brave student posed a question in quick, fluent Spanish. Ruiz explained that Abriendo Oportunidades has worked with about 3,500 indigenous girls all over rural Guatemala. The graduates become resources for their communities: they can speak Spanish, travel, use technology, and serve as role models for younger girls, ultimately contributing to the development of Guatemala as a country. As Ruiz said, "Every investment made for girls, in money or effort, always renders a reward."

—Jess Unger '13