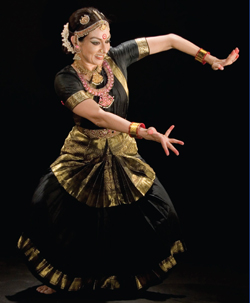 The Sarah Lawrence College Dance Program presents Sampradayam, cutting edge choreography set to ancient, devotional songs from India. Choreographed and danced by the acclaimed Mallika Sarabhai with the Darpana Dance Troupe, Sampradayam is a salute to the "joie de vivre" of the Bhajans, a mainstay of devotional music in Hinduism.
As part of a U.S. Tour, Sampradayam will be performed on Saturday, October 9 at 7:30 p.m. at the Suzanne Werner Wright Performing Arts Center on the campus of Sarah Lawrence College. A dance workshop taught by members of the Darpana Dance Troupe will take place on Sunday, October 10, at 11:30 a.m. in the MacCracken dance studio followed by a lecture titled Arts for Social Change by Mallika Sarabhai at 2:30 p.m.in the Donnelley Lecture Hall, Heimbold Visual Arts Center.
All three events are free and open to the public. Tickets for the performance may be reserved by contacting the Sarah Lawrence dance office at (914) 395-2433. The workshop and lecture are open to the public as well, but do not require reservations.