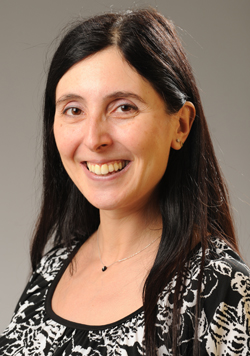 Discipline
Italian
Courses Taught
Beginning and Intermediate Italian; "Depictions of Family Relations and Italian Society in Postwar Italian Women's Writings"
Favorite region in Italy
Tuscany, where I grew up. I still spend my summers there on my mother's farm in the hills outside Florence.
Best place in New York City for Italian food
Arthur Avenue in the Bronx, where you can still find specialty stores, imported goods from Italy, and artisanal Italian food.
Favorite thing in your office
The thank-you cards I have received over the years from my students.
Best thing about the Sarah Lawrence campus
It is small and peaceful, an oasis of green with beautiful buildings, but still close to NYC.
Vices
A nice home-cooked meal and a good glass of red wine.
What do you love about teaching at Sarah Lawrence?
The flexibility we have as teachers and the love of learning I see in my students. It often happens that the students become interested in a particular author whose works we are reading in class. I do not feel bound to the syllabus, and this allows me to branch out and explore that author's work in greater depth, thus both nurturing and taking inspiration from the students' interests.
How are your own research and interests reflected in the courses you teach?
In "Fascism, World War II and the Resistance in Twentieth-Century Italian Narrative and Cinema," we read  Fascist propaganda, watched newsreels from that era, and looked at how Italian authors and film directors—both pro- and anti-Fascist—responded to the regime's propaganda and portrayed that period in literature and cinema. The course gave students a multi-faceted view of this historical period in Italy.
Another time, I worked with a graduate student on an independent study that involved translating contemporary Italian poetry into English. I work on translations in my free time, so it was great fun for me. She picked a variety of contemporary Italian poets and we spent a lot of time talking about specific words and how to render these Italian words into English. I could give her the Italian perspective of what the nuance of a specific word meant and she had to come up with a very good rendering of it in English. It was very stimulating for both of us.