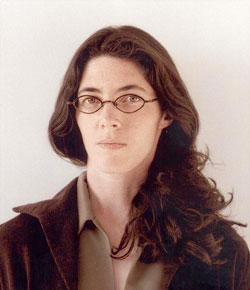 Discipline
Writing (nonfiction)
Courses Taught
Writing about the Arts, Graduate Workshop in Creative Nonfiction, The Craft of Creative Nonfiction  
Favorite works of non-fiction
Fernando Pessoa's Book of Disquiet; Zbigniew Herbert's Still Life with Bridle; Samuel Coleridge's Biographia Literaria; Sketch of the Past and Room of One's Own by Virginia Woolf; Dostoevsky's Memoirs from the House of the Dead; and the essays of Michel de Montaigne.
Technology you can't live without
The fountain pen
Vices
Bourbon, Cheetos
First job
Working for Garry Trudeau on a Doonesbury CD-Rom. I got the job because I wrote my senior thesis on Doonesbury.
Worst job
Working in an Italian sandwich deli for three days until I was fired
Best trip
Going to Maine with my husband and not doing much
What do you love about Sarah Lawrence students?
"My students work extremely hard and they possess an intellectual inquiry that is hard to find in other institutions. The variety of the students' projects and their energy for researching and revising is also a great stimulant for me. It makes me wide-ranging in my thinking. I like to keep up in lots of different fields for my own intellectual work, and it is very satisfying when that is also useful to the students. When they read about, say, William Blake, or the medieval guild system, and I also know something about it and can help them—that keeps me lively.
"I also love the experience of being a don. My class of 12 donnees just graduated and it was wonderful to be in close company with them through such an intense period of intellectual growth. It was exciting to see the many things my students wanted to do after graduating—gallery work, graduate school, filmmaking, art, traveling, and studying Spanish. Because I mostly teach graduate students who are working on nonfiction writing as their profession, it was a delight to see how many different potential career paths my donnees chose."
Why do you think students enjoy taking your classes?
"I think what I offer as a writing teacher is a serious commitment to the long tradition of nonfiction writing. I find a delight in the zany manifestations of the essay as it is coming out in the contemporary world, and at the same time, I am connected to earlier works from other times. I think that is a nice combination for students to experience.
"It's a Wild West time for nonfiction right now because a lot of what used to belong to fiction and poetry and other genres has migrated into nonfiction. Nonfiction writers are being very inventive and crossing lots of boundaries, and as a result, the essay is turning up in unexpected places. Personal writing and writing from the vivid present seems to really call to students right now, and seeing what they come up with is a pleasure."