Sarah Lawrence College presents The Tournées Film Festival, a selection of contemporary French films, to be screened in 35mm format in the Donnelley Film Theatre, Heimbold Visual Arts Center, Thursdays, October 22 through November 19 at 7 p.m. The screenings are free and open to the public. For more information please call (914) 395-2412 or view the event calendar.
"This is an easy way for Americans to get a look at this important cultural phenomenon in France," says Jeffrey Leichman, faculty member in modern languages and literatures.
The festival, a French-American Cultural Exchange program, is supported by the French Ministry of Foreign and European Affairs and the Centre National de la Cinématographie.
The films range from director Catherine Breillat's look at infidelity within the French aristocracy to a collection of shorts by six leading French graphic artists who turn their personal terrors into animated reality. This fall's films are:
October 22
Entre les murs (The Class)
Winner of the 2009 Palm D'Or at the Cannes Film Festival, this film offers a deeper look at an ethnically diverse Parisian junior high school. Director Laurent Cantet focuses on teacher-parent relationships as well as the educators themselves as they seek to inspire their students while simultaneously addressing issues of race and assimilation.
October 29
Frantz Fanon: Sa vie, son combat, son travail (Frantz Fanon: His Life, His Struggle, His Work)
Cheikh Djemai details the life of Frantz Fanon, a psychiatrist in the 1950s who became the voice for the Algerian revolution. His writings on racism and oppression in Africa have become classics, placing him in the forefront of 20th century thought on race and revolution.
November 5
Peur(s) du noir (Fear(s) of the dark)
All animated in stark black and white, these short films plunge into the world of human fear as described by six French authors. A teenage boy meets the wrong girl, a man does not find the safe haven he hoped for in an abandoned house, and much more. Don't go alone!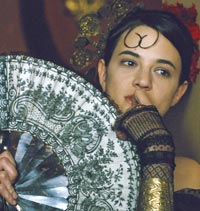 November 12
Une vieille maîtresse (The Last Mistress)
Contemporary director Catherine Breillat sets her story in 19th century France and examines the ramifications of a married man's obsession with a flamenco dancer who provides the passion and emotional connection lacking in his marriage.
November 19
Un Secret (A Secret)
In post World War II Paris, the son of a Jewish couple uncovers a dark family secret from the time of the Nazi invasion. Directed by Claude Miller, this film illuminates one family's story of tragedy and repression; the difficult choices made to survive the war, and the future consequences of those choices.