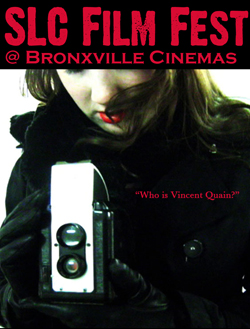 The 4th Annual Sarah Lawrence Student Film Festival will be held for the first time at a commercial movie theatre, The Bronxville Cinemas, on April 22, 2010.
The Festival features 22 films (commercials, previews, and shorts) by 16 student filmmakers, starring more than 50 actors. The films were all made in the last year by students or alumnae/i, and were selected for the festival by a jury of students, staff, and faculty. The diverse lineup of film genres includes comedy, romance, thriller, and documentary.
The festival will be held at Bronxville Cinemas on April 22 at 7 p.m. Seating is very limited; please contact College Events for details and information at (914) 395-2412 or e-mail collegeevents@sarahlawrence.edu.
Below is a list of all the students involved in the film festival.
Filmmakers
Aaron Edwards '10
Lucian Johnston '10
Nick Colia '11
Caleb Lowrey
Eliot Routh '12
Oliver Hensel-Brown '11
Brian Donegan '10
Rafael Gamboa '10
Rafael Gamboa '10
Eitan Yoav '12
Peter Osterweil '12
Neil Murphy '10
Sydney Buchan '10
Douglas McGinness
Emily Cowles '10
Douglas McGinness '10
Kyle Chu '10
Starring
Ada Defriez
Alex Irwin
Alex Shifman
Alyssa Mansala
Annie Soga
Beata Harjm
Ben Bokaer
Beth Koscianski
Beth Slutzky
Carla Lerna
Carlie Bentley
Carolin Dithrich
Cohlie Brocato
Crystal Gehr
Douglas McGinness
Dylan Hawkinson
Dylan Levers
Dylan Morgan
Eitan Yoav
Eliot Routh
Emily Cowles
Emily Hogrefe-Ribeiro
Emma Wiseman 
Erin Adams
Fernando Rivera
Gordon Landenberger
Jack Plowe
John Webley
Juliana Shadlen
Justin Perkins
Katie O
Kevin Brouder
Kim Sullivan
Kyle Curry
Lucian Johnston
Mario Paniagua
Marni Bressler
Michael Donatich
Molly Moody
Muriel Leung
Neil Murphy
Nick Colia
Peter Osterweil
Rowan Magee
Samantha Lust
Sarah Bordelon
Sarah Campell
Sarah Lewis
Sasah Passero
Shay Roman
Sofia Voltin
Sydney Buchan
Tamarah Balazs
Tom Hathaway
Xaq Rothman