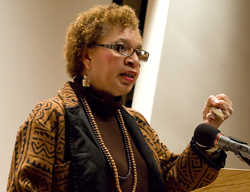 Carmen Ashhurst decided it was time to leave the music business when one of the acts she managed tried to communicate with her using a sawed-off shotgun. When she was president of Def Jam Recordings, the hip hop record company, Ashhurst's life was threatened more than once. While the gun-toting musician was on his way to her office, she found herself debating whether calling the police would be bad for publicity. Eventually Ashhurst realized that she wasn't comfortable with risking her life for her company's street cred.
Now a major gifts officer at Sarah Lawrence, Ashhurst recently gave the keynote address at the 12th Annual Women's History Conference, "The Message is in the Music: Hip Hop Feminism, Riot Grrrl, Latina Music, and More." Ashhurst spent nine years at Def Jam beginning in 1988, during what many critics consider the golden age of hip hop, which lasted from the late 1980s through the early '90s. During that time, Ashhurst said, hip hop was a rising form of expression for a diverse community that included a variety of artists, from rappers with activist messages to those making lighthearted party music. But, according to Ashhurst, as the music became commercialized and production companies pushed profits, sex and violence came to dominate the industry, which made it difficult for rappers who didn't fit the mold to produce their music.
Female entrepreneurs played a vital role in popularizing hip hop, Ashhurst maintained—which is ironic, since the genre is now often equated with misogyny and the commodification of women. "Even with all these progressive women—black and white—running things in the beginning, hip hop music and culture managed to devolve into materialism, misogyny, and in my view, profound racial self-hatred," she said. Her words set the stage for many of the panel discussions during the two-day conference by framing the struggle that women in the music business often face.
Despite the limitations on the business side of the equation, music can still provide an arena for feminist activism and political expression. Conference presenters explored the various ways in which music influences women's lives, self-perception, and societal roles, as well as how feminists have used music to present their political messages. Participants from across the United States and as far away as England and South Africa engaged in discussions analyzing the interplay of Latina music, hip hop, and movements such as riot grrrl with modern feminism.
Ashhurst's talk had moments of hope as well. Though it is often difficult for musicians with activist messages to reach the mainstream, the Internet offers a new level of accessibility, she said. "It's a more personalized, underground, home-based experience. With music you buy online, downloads, and file swapping, there is much less public involvement with the purchase of your music. … The music business has yet to acclimate itself, and that's the struggle they're facing right now."
By bypassing physical music stores and distributors, both listeners and musicians have more autonomy, something that Ashhurst believes could empower musicians with socially conscious messages. Transforming the way that music is purchased and promoted through the Internet might allow hip hop artists to reclaim their images and create music that lives up to its potential to be progressive, while managing to reach a wider audience. If so, she said, perhaps there is another "golden age" of hip hop on the horizon.