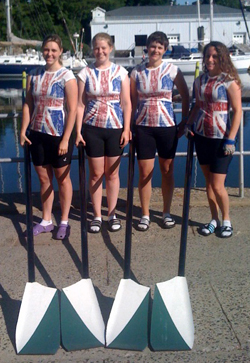 Five rowers from the Sarah Lawrence College crew team are participating in the prestigious Henley Women's Regatta in England June 18–20 for the first time in the history of the SLC rowing program. The highly competitive regatta is the largest all female regatta in the world. Rowing for Sarah Lawrence are Chantal Gil '10, bow, of Swampscott, MA; Zeiland Powell '10, 2 seat, of Bellevue, PA; Emmy Herland '11, 3 seat, of Seattle, WA; Baxter Townsend '12, stroke, of Greenport, NY; and Amy Garrison '10, coxswain, of Denver, CO.
"I am so proud of our rowers" says Carolyn Miles, SLC crew coach. "These young women are joining crews from all over the world as well as elite US college rowing teams to compete at the Women's Henley regatta. We're a small school with a mighty team."

The SLC women have been rowing together throughout the spring all over the Northeast, including such regattas as the Murphy Cup, the Knecht Cup, New York State Collegiate Rowing Championships, and the Dad Vail Regatta. "Earning a bid to race at Henley is an incredible honor for this team and our athletic program. We are thrilled to have this opportunity and look forward to representing the College on the international rowing scene" says Miles.