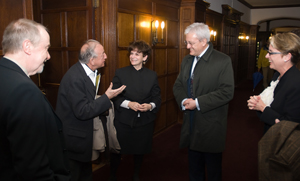 Dr. Bernard Belloc, advisor on Higher Education and Research to President Nicolas Sarkozy of France, recently toured the Sarah Lawrence campus and was the guest of SLC President Karen Lawrence as she hosted a faculty and student reception in his honor. The occasion marked the second meeting of Dr. Belloc and President Lawrence, who were introduced recently in France by Francois-Henri Briard, a prominent French lawyer and a member of Sarah Lawrence's Board of Trustees. In that meeting, Dr. Belloc and President Lawrence discussed educational reform in France as well as possible alliances and joint ventures both on the SLC campus and with selected higher education institutions in France.
Prior to his current appointment, Dr. Belloc served as President of the Université Toulouse 1 Sciences Sociales from 1998-2003 and has led a variety of international missions on behalf of the University of Toulouse and French higher education organizations, including acting as the Science and Technology advisor for the French embassy in China.
Dr. Belloc's activities in higher education administration include terms as President of the French Council of University Presidents (2000-2002) and participation on the Executive Committee of the European University Association (2001-2002). He is currently a member of the French National Universities Council, the French Council for International Cooperation, and the Eiffel Committee, which advises the French government on the recruitment of foreign students. He holds a Ph.D. in Economics from the Université Toulouse, where he is currently a Professor of Economics.