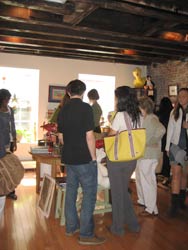 "What are you going to do after graduation?" This innocent question strikes fear into the hearts of many an undergraduate. That's why, on a recent April morning, 10 Sarah Lawrence students gathered around the small, upholstered sound booth at Little Airplane Productions, the children's television production company founded by Josh Selig '86, and watched with amusement as a young man in a t-shirt performed the lively, high-pitched voice of an animated penguin. The penguin will appear in an upcoming episode of The Wonder Pets!, Selig's animation series that's currently the number-one show on the Nick Jr. network.
The voice-overs are recorded prior to the design of the character, the students discovered, in part because the voice performance helps inform the concept of the characters. The group learned about every aspect of producing an animated show—from script development and storyboarding to digital design and the final delivery of an episode—and asked questions like "How does one become an animator?" (Answer: "Study anatomy.") Then the students sat down with Selig. Knowing just how anxiety-provoking the prospect of post-college life can be, he wasted no time in asking, "How can I help you?"
The visit to Little Airplane was part of a joint initiative between the Offices of Career Counseling and Alumnae/i Relations, designed to give students a hands-on look at the fruits of a Sarah Lawrence education and to demystify the career world. "The goal is to provide students from all class levels with insight on what it's really like to make a living in a particular field," says Angela Cherubini, director of career counseling.
A few weeks after the Little Airplane visit, another group of eager students visited Daily News music critic Jim Farber '79 for an informative afternoon in the newspaper's fluorescent-lit, windowless board room. Dressed casually in jeans and a black t-shirt, Farber, who has been at the newspaper for 18 years, began by asking students about their interests. Joe Lazauskas '10 wasted no time in expressing what was on every student's mind: "I want to know how to get a job in journalism."
Farber smiled knowingly. "You work yourself into a job," he advised, explaining how he got his first assignment by approaching a journalist outside of a Bob Dylan concert. "Writing is the kind of job where you have to hang your own shingle."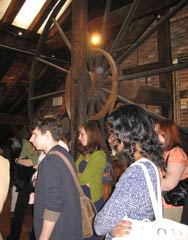 Selig and Farber offered practical advice on how to succeed after Sarah Lawrence, and both recommended gaining experience through internships. "They really do lead to jobs," Farber said.
Students were intrigued by how Farber and Selig had started on their career paths. Farber was so eager to begin working, he said, that he had a U-Haul meet him at his graduation ceremony. He added, "When I was your age, I would have done anything to succeed."
Selig, who worked as a busboy, a bike messenger, and an office temp before receiving his breakthrough audition as a script writer for Sesame Street, told students, "My first two years out of Sarah Lawrence, I was furious, for the following reason: It seemed no one cared about the skits I'd worked so hard on as an undergraduate."
He continued, "Sarah Lawrence prepares you to be an initiator. Once you know what market you want to be in, hunker down long enough to get some traction. And then all the things you've learned from Sarah Lawrence will come into play."
Offering similar advice, Farber shared with students the key to his success: persistence. "If you are going to succeed at anything, you have to be willing to fail."
Lazauskas said the time with Farber was illuminating. "Even though this isn't my exact field"—he wants to write about sports—"writing is so broad that I can take what he said and apply it."
Naomi Jimenez '09, who attended the Little Airplane visit, hoped to make a contact for a future internship. Impressed with the tour and the general atmosphere, she said thoughtfully, "It seems like everyone's family—this is definitely a good work environment."
Courtney deKanter, associate director of alumnae/i relations, hopes that the program can be replicated around the country. "This a wonderful way for alumnae/i to connect—and in some cases, reconnect—with the College and with students."
And when they do, they help increase the odds that when a Sarah Lawrence student is asked, "What are you going to do after graduation?" he or she can coolly reply, "Why, I'm starting my dream job, of course."
—Suzanne Guillette MFA '05
June 2008

If you are interested in hosting a site visit, please contact the Office of Alumnae/i Relations at (914) 395-2530 or alum@sarahlawrence.edu.