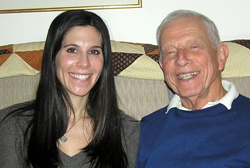 Personal essays can resonate with readers when writers reveal the truth about their life journeys. Writers  benefit too as they unearth memories, distill them into words, and share their experiences with the world.
World War II veteran Marty Schwager, now 88, had such an experience a decade ago when trying his hand at writing through a program co-sponsored by Sarah Lawrence College and the SOS program of the JCY-Westchester Community Partners (Jewish Council of Yonkers).
"Writing that story was a catharsis for me," says Schwager, who lives in the Jeffrey Park apartments in northeast Yonkers."It really lifted a life burden from my shoulders. Somewhere in the back of my head I still tear up when I think about it." The SOS program reduces isolation and enriches the lives older adults aging in place in their apartment buildings throughout Westchester in partnership with the Westchester County Department of Senior programs and Services.
The Sarah Lawrence community writers program continues to send students from its graduate writing program into the community to help young and old put their life-stories in writing. This fall, Sarah Lawrence graduate writing students are working with fledgling writers at Roosevelt High in Yonkers, the Westchester County jail in Valhalla, and senior citizen centers in White Plains and Mount Vernon.
"We work from the premise that everyone can write, and everyone has a story to tell," says Alexandra Soiseth, assistant director of Sarah Lawrence's writing program. "Our job is to help them find a way to tell it."
Schwager's essay detailed the brutality of war during the Battle of the Bulge near the end of World War II. He carried his disturbing memories for more than 50 years.
Working with Schwager in 1999 was Sarah Lawrence student Jessamyn Hope, whose short stories have appeared in literary magazines in the US and Canada. She remembers Schwager and the other senior citizens she worked with and how their determination to learn the art of writing has inspired her.
"They really worked hard to master it," recalls Hope. "I learned from their stories, but I also learned a lesson that's applicable to my future – that you never have an excuse to not be learning and growing as a person."
Schwager's story, which was published in the Yonkers Jewish Chronicle, encouraged him to develop his new-found craft. For several years, he interviewed Yonkers residents and wrote profiles of them for the Chronicle.