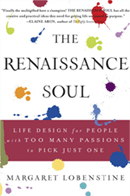 "Do you feel a pang of jealousy when someone says, 'I've known exactly what I wanted to be since I was two years old?'" Margaret Lobenstine asked the students gathered in Slonim living room, sounding like a supportive, caring aunt.
The author of The Renaissance Soul: Life Design for People with Too Many Passions to Pick Just One, Lobenstine has been a teacher, an innkeeper, and an activist, and now works as a life coach. Her book describes the type of person who has too many passions to choose just one, and provides tips for how to be successful in a culture that often rewards people who stick with one interest for life. The multi-talented Sarah Lawrence students who attended the April event, which was sponsored by the Office of Career Counseling, responded immediately to the concept.
Lobenstine uses Mozart and Benjamin Franklin to exemplify the continuum of personality types. Mozart, who played the piano from the age of 3, represents the kind of driven personality that chooses a single, lifelong interest. At the opposite end of the spectrum, Benjamin Franklin—an inventor, journalist, and statesman—represents the Renaissance Soul. Corporate culture emphasizes success via the Mozart way, Lobenstine points out. "We don't have many role models for the alternative. How often do you hear, 'Oh that person is so successful, he has so many interests?'"
Anne Marie Damiani, associate director of career counseling, thinks Lobenstine's perspective is particularly valuable for Sarah Lawrence students. In her meetings with students, "One theme that kept surfacing was that they had so many interests and often felt confused or pressured to narrow their career selection," Damiani says.
The challenge for many people is how to maintain a wide variety of interests without becoming scattered. Lobenstine's advice for Renaissance Souls begins with a process of selecting four "focal points." These key interests may change over time, but they represent the passions to be pursued for now. The goal is to help provide a sense of possibility while satisfying the craving for variety.
Using this organizational principle, Lobenstine's book offers guidance for people in various life stages: how to choose and succeed in college, how to pursue careers that fit the Renaissance Soul personality, how to tweak an existing job to be more fulfilling, and how to change career paths entirely. Some people may be able to align their passions with paid work, she says, but for others that might not be the best approach.
Perhaps her most important piece of advice, especially in this challenging job market, is to avoid correlating identity with income and instead to place your identity with your passions.
The students absorbing this counsel all received free, signed copies of the book and had the opportunity to speak with Lobenstine about their individual challenges with balancing a variety of interests and talents. By the end of the evening students seemed relieved to have a new tool to use in career discussions with parents, as well as a new role model: Benjamin Franklin.
—Sophia Kelley MFA '10
June 3, 2009