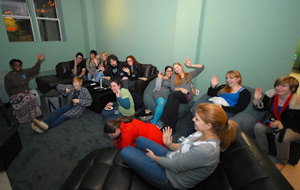 Students in Hill House have more room to socialize since the opening of two new lounges in October. Previously, the pre-war apartment complex had no common areas for larger gatherings. But the two renovated apartments on the first floor now provide space to hang out, watch TV, have meetings, or study.
A committee of students chose the furnishings and paint colors for the rooms. The TV lounge is designed for relaxation and features comfortable couches and soothing blue walls. Students chose to paint the study lounge orange to help keep people awake and energized while working.
The lounges were partially funded by a gift from Trustee David Dull and his wife, Susan Shieldkret (parents of Katy '07), to support student community spaces.
Resident Assistant Michelle Huber '13 said the lounges have already seen plenty of use. "It's nice for the RAs, because we can have events there. We had an ice cream party, and this weekend there is going to be a pie-making contest," she said.
—Sophia Kelley MFA '10