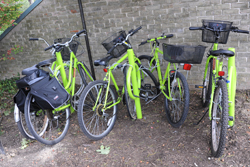 The College rolled out a bike-share program earlier this month, placing six lime-green bicycles in a designated rack in front of the library. Students, faculty, and staff can now borrow a bike to get around on campus, to pedal into town, or just to get some exercise.
Maureen Gallagher, director of facilities, says the inspiration came from abandoned bicycles that had been left on campus. Why not take bikes that no one wanted and make them into something everyone could use? She rescued six abandoned bikes that were still in decent shape and had them fixed at a local shop, using non-salvageable bikes as sources for parts.
"So far the response has been amazing! Bikes are being borrowed constantly," said Gallagher. Bikes can be checked out at the main library as easily as checking out a book. Use of the bicycle is free for up to six hours; after that, riders will be charged 25 cents per hour or a full-day rate of six dollars. Every bike comes with a lock, and users are encouraged to be diligent about securing bikes so that the community can keep pedaling.
Students can find full details about the program on MySLC under Campus Life.
—Sophia Kelley MFA '10