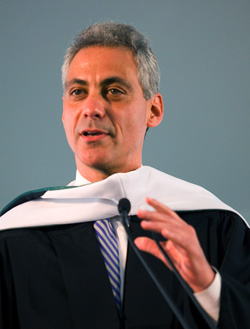 White House Chief of Staff Rahm Emanuel addressed the 327 undergraduates receiving the Bachelor of Arts degree and 129 graduate students receiving master's degrees from eight programs at Commencement ceremonies on Friday, May 22, 2009.
The 1981 graduate of the College, who was awarded an honorary Doctor of Humane Letters spoke to the graduates and their families, a crowd of about 2,500 about his time at Sarah Lawrence, giving advice grounded in his own experience and acknowledging the world they are facing. "Yes, it's true that you are leaving this campus at a time when our nation is facing tough problems and jobs are harder to come by than perhaps many of you had hoped.
"But I am also excited for you. Because it is at moments like these when we need a new generation to offer new ideas and new energy to meet the challenges we face as a country. Because it is at moments like these when we prove what we are really worth. And I am excited for you because I know that you are ready.
"And part of why you are ready is because you came here, to Sarah Lawrence, to earn a liberal arts education. And that is going to serve you so well. There are plenty of people out there who spent four years learning one subject or one trade. And there is a lot of merit to that. But you spent four years learning how to approach any subject. You spent your time exploring a breadth of ideas and topics that will prepare in ways you cannot even begin to appreciate yet."
Emanuel spoke to the graduating students of valuing what has been given to them and of learning from their failures. He also spoke about service: "The final lesson I want to leave you with today is the importance of serving a cause bigger than yourself. Anyone would acknowledge that America has had a tough couple of years. But, in the long run, America will be known, not for what we've done over these last years, but for what we're about to do to come back.
"Whatever you do in life, I hope you will also serve however you can. You will be a better citizen for it. You will be a happier person for it. And this country will be stronger because of it.
"Class of 2009, I know those lessons may sound pretty straightforward. But, trust me, they were gained through a lot of pain, and anguish, and soul-searching. And I hope you can learn from my mistakes, as you start this new chapter in your life."
Emanuel became well known to millions of people across the globe as the first major appointment following the historic election of Barack Obama. After graduating from Sarah Lawrence, he worked for a public interest group, became an advisor with the Democratic Congressional Campaign Committee, and co-founded a political consulting firm. Joining the Clinton presidential campaign team in 1991, Emanuel demonstrated the tenacity and drive that would characterize his years at the White House: as financial director for the campaign, he raised a record $70 million in funds. He then planned President Clinton's inauguration, continuing on to serve as the political director and senior advisor to the President at the White House. Elected to Congress in 2002, he championed causes he considered vital to the public welfare. As a House leader, he chaired the Democratic Caucus as well as the 2006 Democratic Congressional Campaign Committee.
"We are extraordinarily proud that Rahm Emanuel is not only a graduate of SLC but also a loyal alumnus. Throughout his meteoric career, Rahm has always been generous with his time and shared his political genius with our students. We are delighted to have welcomed him on campus for this year's commencement," said Sarah Lawrence College President Karen Lawrence.