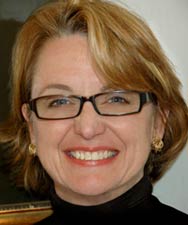 Sarah Lawrence College President Karen Lawrence and Board of Trustees Chair John A. Hill have announced that Jerrilynn D. Dodds will become the next Dean of the College, assuming responsibilities on August 1, 2009.
"This is a critical position for the College as we collectively write the next chapter in our history," said President Lawrence, who is completing her second year as head of the 80-year-old, co-educational college of the liberal arts and sciences.
Professor Dodds comes to Sarah Lawrence with a strong academic and administrative background. Since 2007, she has been distinguished professor and senior faculty advisor to the provost for undergraduate education at the City College of New York, where she had previously been chairman of the department of architecture. She holds teaching appointments in the School of Architecture (also having served as coordinator of history and theory from 1996-2007) and the Graduate Center of the City University of New York. She has also taught at MIT, Columbia, Harvard, University of North Carolina, and the University of Minnesota. Her academic focus has been on Medieval, Islamic, and Hispanic art and architecture. She earned her B.A. from Barnard, studied at the University of Paris and University of Florence, and received a Ph.D. from Harvard University.
A recipient of numerous research grants and fellowships, Dodds has been named a teacher of the year at City College and received several awards recognizing her professional work. She has written, edited, and contributed to numerous books and scholarly articles. In addition, she has written and directed films in her areas of expertise—including award-winning projects for the Metropolitan Museum of Art—and curated exhibitions at the Met, the Newark Museum, and the Jewish Museum, among others. She has consulted for numerous groups and served on the board of architectural and art history organizations.
In choosing Dodds, President Lawrence stated that as much as her professional and academic accomplishments, she and the search committee have been impressed with Jerrilynn Dodds' dedication to undergraduate teaching, the focus of much of her current role at City College. Among her responsibilities have been areas of crucial importance to the Sarah Lawrence pedagogy, including writing across the disciplines and faculty advising.
Dodds follows Pauline Watts, an alumna and long-time member of the Sarah Lawrence faculty who served as dean since the retirement of Dean Emerita Barbara Kaplan in 2007. Kaplan had served as dean for 22 years.
"The faculty is delighted with the selection of Jerrilynn Dodds," said Rose Anne Thom, chair of the Dean's search committee and a member of the dance faculty. "We were most impressed by her passionate commitment to the educational values that distinguish our college. She brings both a seasoned background and a fresh perspective to Sarah Lawrence based on her more than 30 years in higher education."