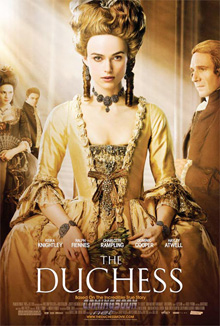 The Friends of the Sarah Lawrence College Library and the Office of Alumnae/i Relations will host a screening and discussion based on the novel by Amanda Foreman '91 on Friday, April 3 in the Donnelley Lecture Hall in the Heimbold Visual Arts Center. The movie screening will begin at 4:00 p.m. and will be followed by an informal reception. Discussion and book signing with Amanda Foreman '91 (author), Gabrielle Tana '85 (Producer) and Malcolm Turvey (Film History Faculty) will follow at 7:00 p.m. This event is free and open to the public. For more information please contact College Events at collegeevents@sarahlawrence.edu or (914) 395-2412.
Amanda Foreman is the author of the award-winning bestseller Georgiana, Duchess of Devonshire.
Foreman is also the daughter of Carl Foreman, the Oscar®-winning screenwriter of many film classics including, The Bridge on the River Kwai, High Noon, and The Guns of Navarone.
Georgiana Duchess of Devonshire has been translated into several languages and won the Whitbread Prize for Best Biography in 1999. Foreman writes regularly for newspapers and magazines in both the United States and the United Kingdom.
Foreman has been working on her second book A World on Fire, for the past eight years. The book tells the story of the British men and women who volunteered their services during the American Civil War.
Foreman also attended Columbia University and received her doctorate in Eighteenth-Century British History from Oxford University in 1998.
Sarah Lawrence is a liberal arts college for men and women, founded in 1926, with a distinctive system of education. It is known for having one of the lowest student/faculty ratios in the country. At the core of the system are small classes, regular one-on-one student-faculty conferences, cross-disciplinary approaches and the integration of the creative arts within the curriculum.