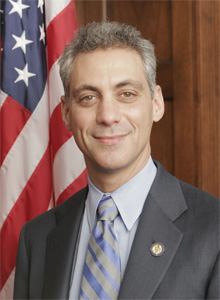 White House Chief of Staff Rahm Emanuel '81 will address the Sarah Lawrence College graduating class of 2009 at Commencement ceremonies on May 22, announced Karen Lawrence, president of the College.
"It is our great fortune that such a prominent alumnus will be our 80th graduation speaker, the 40th since Sarah Lawrence became coeducational," said Lawrence.
Emanuel became well known to millions of people across the globe as the first major appointment following the historic election of Barack Obama. After graduating from Sarah Lawrence, he worked for a public interest group, became an advisor with the Democratic Congressional Campaign Committee, and co-founded a political consulting firm. Joining the Clinton presidential campaign team in 1991, Emanuel demonstrated the tenacity and drive that would characterize his years at the White House: as financial director for the campaign, he raised a record $70 million in funds.  He then planned President Clinton's inauguration, continuing on to serve as the political director and senior advisor to the President at the White House.  Elected to Congress in 2002, he championed causes he considered vital to the public welfare.  As a House leader, he chaired the Democratic Caucus as well as the 2006 Democratic Congressional Campaign Committee.  
"We are extraordinarily proud that he is not only a graduate of SLC but also a loyal alumnus.  Throughout his meteoric career, Rahm has always been generous with his time and shared his political genius with our students.  We look forward to having him on campus for this year's commencement," said Lawrence.