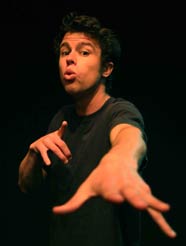 San Francisco-based actor and writer Dan Hoyle will present his third solo show Tings Dey Happen at Sarah Lawrence College on Saturday, November 22, at 8 p.m. in the Reisinger Auditorium. Tings Dey Happen tells the story of Hoyle's experiences in Nigeria studying that country's complicated—and dangerous—oil industry and its political fallout. This event is free and open to the public. For more information please contact College Events at (914) 395-2412 or e-mail collegeevents@sarahlawrence.edu.

In Tings Dey Happen, Hoyle portrays warlords, militants, oil workers, prostitutes and the American Ambassador to Nigeria as well as many other characters. In his third solo show, Hoyle continues to develop his unique form of journalistic theater. He spent a year in Nigeria as a Fulbright scholar studying oil politics, and he brings to the stage one of the most important geopolitical stories of our time. The New York Times called Tings Dey Happen "funny and poignant", and The San Francisco Chronicle writes, "Tings is a smart, engrossing, funny, challenging and moving look at the too-neglected story of Nigeria's bloody oil politics."

Nigeria currently supplies 10% of American oil, and its surrounding Gulf of Guinea region has been targeted as the "new Middle East" of oil security. However, militants in the oil-producing Niger Delta are blowing up pipelines, warlords are threatening rebellion and oil company employees are being kidnapped with alarming frequency. The audience meets all the players in Hoyle's ambitious, comic and disturbing new play.
Tings Dey Happen received the prestigious 2007 Will Glickman Award for Best New Play before running five months Off-Broadway in New York at The Culture Project, where it was nominated for a 2008 Lucille Lortel Award for Outstanding Solo Show.

Hoyle's essays have appeared in The San Francisco Chronicle, SportsIllustrated.com, and Salon. Hoyle's previous solo shows Circumnavigator and Florida 2004: The Big Bummer had extended runs in San Francisco before touring colleges throughout the country. Hoyle has been commissioned by The Aurora Theatre Company and has served as an artist-in-residence teacher at San Francisco's School of the Arts. Hoyle also performs with his father, actor and comedian Geoff Hoyle.
Hoyle graduated from Northwestern University with a double degree in Performance Studies and History.