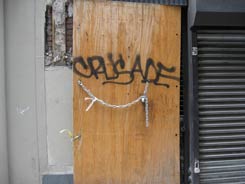 A solo exhibition by Karlos Carcamo will be on view at the Heimbold Visual Art Center's Barbara Walters Gallery from October 16 through November 13. An opening reception will be held October 16 from 5-6:30 p.m. The exhibit is free and open to the Public. For more information please call 914-395- 2355 or e-mail cstayrook@slc.edu. Gallery hours are: M – F 9 a.m. to 5 p.m. and S/S 10 a.m. to 4 p.m.
Karlos Carcamo's exhibition is a part of the on-going emerging artists series held during the 2008-2009 academic year. Members of the college's visual arts and visual culture faculty in conjunction with their students select each artist in the series.
"It's Like That," says Carcamo, will include a survey of work from 2002 through 2008 that encompass a range of mediums such as painting, sculpture, works on paper, and photography. All the works in the exhibition touch on various aspects of urban culture and reflect my interest between high/low cultural and art historical references. Much of the subject matter in the work deal with the social and economic issues that plaque urban communities such as poverty, drugs, and violence but also celebrate the rich cultural history of forgotten places, names, and people that have given rise to urban culture within mainstream society today.
Carcamo was born in San Salvador, El Salvador, and raised in Jamaica, Queens, New York. He received his BFA from the School of Visual Arts (1997) and MFA from Hunter College (2000). Since graduate school, He has exhibited his work in a number of galleries and museums including the Bronx, Queens, Brooklyn, and Jersey City Museums, El Museo del Barrio, PS 1 Center of Contemporary Art, PS 122 Gallery, Artists Space, Apex Art, Longwood Art Gallery, White Box Gallery, Jamaica Center for Arts and Learning, The Bronx River Art Center, Ambrosino Gallery Miami, Florida, and Lesnica Castle, Wroclaw, Poland.
The artist attended residencies at the Skowhegan School of Painting and Sculpture in 1997 and the Atlantic Center for the Arts in 2002. His work has been mentioned in publications and periodicals such as Art in America, The New York Times, Daily News, Village Voice, Art Asia Pacific, Art Nexus, Mass Appeal, and Time Out Magazine. In 2005, Carcamo's work was presented as part of a performance by the Merce Cunningham Dance Company at the Joyce Theater in New York City. Upcoming exhibitions include "Exporting Pop: A Western Fantasy," Kuwait Art Foundation, Dubai United Arab Emirates, "Intervenciones," Museo de Arte de El Salvador (MARTE), The Pleasure Seekers, Chashama ABC, New York. Carcamo lives and works in Beacon, New York.