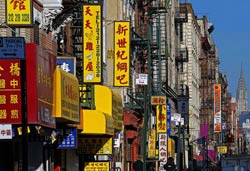 Camera Work: 2008, a collection of photographs by SLC alumnus Steven Schnur '74, are on exhibit in the Esther Raushenbush Library Gallery through December 15. A reception will be held October 26 from 2—4 p.m. The 45 images in the exhibit are published in two books of photography. Schnur is also an author of two dozen books for children and adults.
The author and photographer traces his lifelong interest in photography to his late father who first took up the hobby in Berlin in the early 1930s. Eager to illustrate his own children's books but lacking an artist's facility with pencil or paint brush, he discovered ways to convert photographic images into a variety of illustrative forms that he uses in his books.
Ranging from the highly abstract to the purely representational, from color to black and white and sepia, Schnur's subject matter includes still life and portraiture, landscape and cityscape.
Schnur is a member of the faculty at the Writing Institute in the College's Center for Continuing Education.