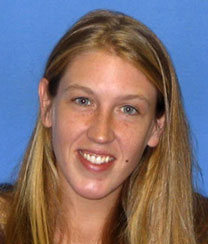 Stacey Ahern, class of '08, died on March 20 in Bronxville at the age of 29. A memorial service will be held on Wednesday, April 30, from 3:30 to 5 p.m. in Heimbold Auditorium, and a tribute remembering and celebrating Stacey will be held from 5:15 to 6:45 p.m. Anyone wishing to share their memories of Stacey are welcome to do so during the tribute. For more information, contact College Events (914) 395-2412 or collegeevents@sarahlawrence.edu.
Stacey entered Sarah Lawrence College through the Center for Continuing Education in fall 2005 and matriculated into the regular undergraduate program the following year. Stacey was passionate about language in all its forms. She wrote poetry and fiction, and recently completed her first novel. Works she was particularly fond of included those of Emily Dickinson and Kafka, Jane Eyre, and New Yorker cartoons. Her favorite songs came from the Grateful Dead and Ani DiFranco. On campus, Stacey was a member of the student group Beyond Compliance, and persistently advocated for the rights of people with disabilities to reach their full potential.
At the request of Stacey's family, the College has set up a scholarship fund in her memory. For information please call (914) 395 2525. Condolences to the family can be sent to Stacey's father, Mr. Brendan Ahern 17, Joyce Avenue, Lowell, MA 01851-4012.