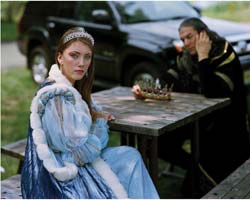 Joshua Lutz "Meadowlands"
Monday, Feb. 25th 2008 to Wednesday, March 26th 2008
Barbara Walters Gallery
Hours: M – F 9 a.m. to 5 p.m. S/S 10 a.m. to 4 p.m.
Opening Reception: Thursday, March 6th, 5:00 to 6:30p.m.
Sarah Lawrence College is pleased to announce "Meadowlands", an exhibition of photography by Joshua Lutz. On view at the Heimbold Visual Art Center's Barbara Walters Gallery, it is free and open to the Public. For more information please call 914-395- 2355 or e-mail cstayrook@slc.edu.
Joshua Lutz's exhibition is a part of the on-going emerging artists series held during the 2007-2008 academic year. Members of the college's visual arts and visual culture faculty in conjunction with their students select each artist in the series.
Joshua writes the following about his exhibition:
"Under the auspices of finding Jimmy Hoffa's body I started to explore the meadowlands ten years ago. What initially started as a strict documentary project has evolved into something else entirely.
Located in the most populated area of the United States, two miles west of Manhattan is a 32 square mile radius of wetlands known as The Meadowlands. Two thirds of these wetlands have already been filled in and turned into an industrial wasteland commingling with motels and gas stations. This landscape that has been dumped in, paved over, deforested, and mined still remains to be one of the most alluring wetlands capable of continuing to recover. The immense wilderness of the meadowlands could potentially become one the great 21st-century open spaces for the 13 million people of the New York-New Jersey Metropolitan areas. However it is about to see more projected growth in the next year than it has in the previous fifty. The construction of Xanadu, a five million square foot entertainment and retail complex in conjunction with the growth of newly built, poorly planned communities could forever change these wetlands.
On one level this project can stand as a document of this landscape as it is today. It can act as a call to action to preserve a fading landscape and environment of open space. On the other hand this project has evolved into addressing issues unrelated to the specifics of the document.
I am often thinking about creating images that convey a mood or a feeling, how the meadowlands can serve as a metaphor for other issues that I am struggling with. For me it is a place of loneliness and solitude. A place where people pass through on their way to someplace else and occasionally a place where people convene, stopping at motels to spend the night to fill up on cheap gas and cheap sex.  These somewhat disparate images tell different stories. I think of them as songs on an album that build upon each other. The songs may be about something specific, but more often than not the specifics become less important than the feelings conveyed."
Joshua Lutz (born 1975) is the recipient of numerous awards and fellowships. His first critically acclaimed solo show at Giterman Gallery in New York launched his career into various collections. In 2008 Lutz's first monograph titled Meadowlands will be published by Powerhouse books and will coincide with a solo exhibition at Clamp Art in New York City.