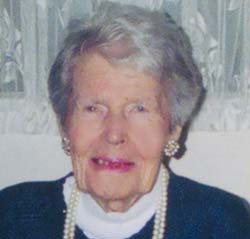 The Margaret Hopping Music Fund at Sarah Lawrence College has been established thanks to a $225,000 bequest by a member of one of the first families to live in Bronxville, Margaret Hopping, who died shortly before her 100th birthday last year. The gift will be celebrated at an upcoming concert this spring.
Margaret Hopping enjoyed the cultural offerings of the colleges on both sides of her village home; she and her architect brother, Daniel, frequently attended concerts at Sarah Lawrence and Concordia Colleges. Her bequest to Sarah Lawrence "for the enhancement and advancement of concerts, programs, and other public events sponsored by the Music Department," was presented to the College by former Bronxville resident Heather Bernard, and Ms. Hopping's attorney, longtime village resident, Peter Bertine. Ms. Hopping also bequeathed an equal sum to Concordia College and Lawrence Hospital.
Honoring Ms. Hopping's wishes, the gift to Sarah Lawrence will be used to help underwrite the annual concert series, which presents approximately eight performances each semester by diverse artists of widely varying styles. "We are touched and delighted with this gift," said music program director, Chester Biscardi.  "Although I did not know Margaret Hopping personally, it is encouraging and affirming that a member of our local community was so appreciative of Sarah Lawrence's musical offerings that she chose to bequeath to the College a gift that will help support and nourish our Concert Series.  It will be an enormous help to us in bringing exceptional guest artists to the College for the benefit of our students and the larger community."
An interesting footnote: Ms. Hopping's house on Midland Avenue was one of the first built by William Van Duzer Lawrence, Sarah Lawrence College's founder.